Google Images and IPTC: Frequently Asked Questions
Have you just clicked the "learn more" link in a Google images search results page? Do you have questions about an image that you found on Google? Read on to have all your questions answered.
Please click the link to go direct to your question:
I found a picture of myself when searching Google for my name. Could you please remove it?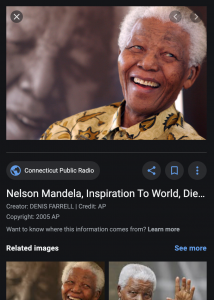 We at IPTC don't create or manage any images. IPTC maintains the technical standard that image creators can use to put their creator and copyright details inside image files. We call this "photo metadata". Google extracts this information from photos in search results and displays it to help you find who owns the image.
To have an image removed from a web site, so that it doesn't appear in search results, you will need to contact the site that hosts the image.
In the example image shown on the right, the Nelson Mandela image was created by a photographer called Dennis Farrell, and published by AP (the Associated Press news agency) and the copyright is owned by AP.
The link above the page title shows that the image is hosted by Connecticut Public Radio. So if you want to ask for this image to be removed, you should follow that link, find the contact details for the people who run the Connecticut Public Radio site, and ask them to remove or change the image.
Since neither IPTC nor Google operate the website that is hosting the image, we can't remove the image from the web.
Please note that after images are removed from websites, it can take a couple of weeks for Google's search index to update.
Please see this Google Search Help post for more information from Google on removing images from Google search results.
I would like to obtain a licence to re-use an image that I found on Google search. Can you help me?
We at IPTC did not create the image and we don't own the copyright to it. We simply make the technical standard that the image owner has used to state their ownership of the image.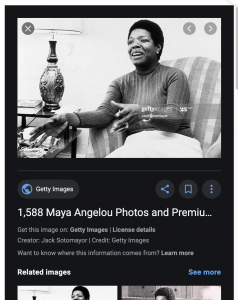 If the image is displayed on Google with a"Get this image on" link, you can simply follow the link. In this example, you would click on the "Getty Images" link). This will take you to the image owner's site where you can learn how to obtain a licence to use the image.
Otherwise, you can follow the "License details" link to see if the image can be used without obtaining permission from the owner. For example, the owner may have licensed the image under Creative Commons Attribution ("CC-BY"). This licence only requires that you give credit to the original image creator.
If those links are not available, then the "Copyright", "Credit" or "Creator" fields may lead you to the image owner. You may have to search for the image owner to find out how to contact them. You can also try using the IPTC "Get PMD" tool on the image, which may show additional IPTC metadata fields such as the image creator's contact details.
If none of those options work, a Google reverse image search might help you to find the original image and then contact the creator to ask for a licence.
I run a web site and my images don't have metadata appearing on Google image search results. How do I make sure that my metadata appears?
First of all, you should check that the original images contain embedded IPTC Photo Metadata – you can use the GetPMD.iptc.org tool or the IPTC Photo Inspector browser extensions to check. If the images don't contain any metadata, see the Quick guide to IPTC Photo Metadata and Google Images for information on how to embed it yourself.
Are you sure that the images you are adding to your site contain embedded metadata, but the metadata is not displayed when using the GetPMD tool or on Google search results? In that case, the metadata might be stripped from your images by some software on your site. Sometimes this could be your Digital Asset Management system (such as Bynder, WebDAM or Extensis Portfolio). In other cases your Content Management System (such as WordPress or Drupal) might strip off metadata. Or it could be a Content Delivery Network that you use, such as Cloudflare or Cloudinary.
Advice on turning off the metadata-stripping "feature" varies according to the tools that you are using. This means that we can't give advice for every tool. But generally, you should look in your app's configuration settings to switch off the automatic stripping function. 
I own my own photographs that I host on the web. I would like Google to display creator, credit, copyright and licensing information on them. How can I do that?
We have written a guide for image owners, Quick guide to IPTC Photo Metadata and Google Images, which explains how to add IPTC Photo Metadata to your images using several popular image editing tools.
I have noticed my name appearing in Google Images search results for my photos/images. How can I remove or change it?
Some image editing tools add the user's name by default to the embedded metadata in images created by the tool. We suggest that you look in the preferences of your image creation and/or editing tools to see if this option is turned on somewhere. If you want to remove it from individual images/photos, you will need to load the images into your photo editor, go to the metadata panel, remove the metadata and then re-save/export the image.
I have another question that is not listed above. Who can I ask?
Please use the IPTC Contact Us Form to send us your question and we will try to respond in a timely manner.