Categories
Archives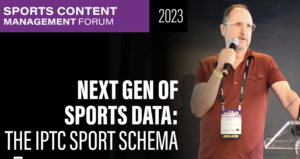 The video recording of IPTC's presentation at the Sports Video Group Content Management Forum has now been released.
Paul Kelly, Lead of the IPTC Sports Content Working Group, gave a live presentation introducing the IPTC Sport Schema to participants at the event, held in New York City in July 2023.
Many of those participants have helped with the development and testing of the new model for sports data, including PGA Tour, NBA, NFL, NHL and more.
The full video is now available on SVG's on-demand video platform, SVG Play.
In the presentation, Paul describes among other things:
the motivation for the new model
how it is different from IPTC's existing sports standard SportsML
how it can handle sports from tennis to athletics to football to golf and more
how it might be used by broadcasters and sports data providers to attach sports data to video and other forms of media content
The Sports Content Working Group is now putting the final touches to the schema and its supporting documentation before it is put to the IPTC Standards Committee to be turned into an official IPTC standard.