Categories
Archives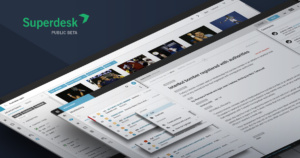 When IPTC member Sourcefabric presents their flagship product Superdesk – an extensible end-to-end news production, curation and distribution platform – they always recognize the importance of IPTC standard NewsML-G2 as its backbone.
As Sourcefabric CTO Holman Romero explained at the IPTC Summer Meeting in Stockholm (13 – 15 June 2016), Superdesk was built on the principles of the News Architecture part of the NewsML-G2 specification by the IPTC. This is because Superdesk is not a traditional Web CMS, but rather a platform developed from the ground up for journalists to manage the numerous processes of a newsroom.
"Superdesk is more than a news management tool built for journalists by journalists, for creation, archiving, distribution, workflow structure, and editorial communications," Romero said. "We at Sourcefabric also see it as the cornerstone of the new common open-source code base for quality, professional journalism."
NewsML-G2 is a blueprint that provides all the concepts and business logic for a news architecture framework. It also standardises the handling of metadata that ultimately enables all types of content to be linked, searched, and understood by end users. NewsML-G2 metadata properties are designed to comply with RDF, the data model of the Semantic Web, enabling the development of new applications and opportunities for news organisations in evolving digital markets.
There were several important factors that led Sourcefabric, Europe's largest developer of open source tools for news media, to the decision to use NewsML-G2:
IPTC has established credibility as a consortium of the world's leading news agencies and publishers. Additionally, NewsML-G2 has been adopted by some of the world's major news agencies as the standard de facto for news distribution. "Why reinvent the wheel?" Romero said. "IPTC's standards are based on years of experience of top news industry professionals."
NewsML-G2 met the requirements of Sourcefabric's content model: granularity, structured data, flexibility, and reusability.
NewsML-G2 met the requirements for Sourcefabric's design principals:

Every piece of content is a News Item.
Content types are text, image, video, audio.
Content profiles support the creation of story profiles and templates.
It can format items for content packages and highlights.
Content can be created once and used in many places. Sourcefabric refers to this as the COPE model: Create Once, Publish Everywhere. This structure enables and frees the content to be used seamlessly and automatically across multiple channels and devices, and in a variety of previously impossible contexts.
Sourcefabric also stresses the importance of metadata, the building blocks of "structured journalism." As explained by Romero in a recent blog post: "The foundation of structured journalism is built on the ability to access and locate enormous amounts of data from all over the web and from within the system itself (i.e. content from previous articles). Without providing valuable metadata for each of your stories and subsequent pieces of visual collateral, finding key information located inside of them becomes infinitely more difficult."
News organizations that use Superdesk include the Australian news agency AAP and Norweigian News Agency NTB. Other IPTC standards supported by the platform are NewsML 1, ninjs, NITF, Subject Codes, IPTC 7901.
Source code repositories are publicly available in Github: https://github.com/superdesk
About Sourcefabric: Sourcefabric's mission is to make professional-grade technology available to all who believe that quality independent journalism has a fundamental role to play in any healthy society. They generate revenue by IT services – managed hosting, SaaS, custom development, integration into existing workflows – as well as project-by-project funding, grants, donations.