Categories
Archives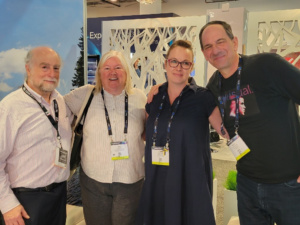 The National Association of Broadcasters (NAB) Show wrapped up its first face-to-face event in three years last week in Las Vegas.  In spite of the name, this is an internationally attended trade conference and exhibition showcasing equipment, software and services for film and video production, management and distribution. There were 52,000 attendees, down from a typical 90-100k, with some reduction in booth density; overall the show was reminiscent of pre-COVID days.  A few members of IPTC met while there: Mark Milstein (vAIsual), Alison Sullivan (MGM Resorts), Phil Avner (Associated Press) and Pam Fisher (The Media Institute).  Kudos to Phil for working, showcasing ENPS on the AP stand, while others walked the exhibition stands.
NAB is a long-running event and several large vendors have large 'anchor' booths.  Some such as Panasonic and Adobe reduced their normal NAB booth size, while Blackmagic had their normal 'city block'-sized presence, teeming with traffic.  In some ways the reduced booth density was ideal for visitors: plenty of tables and chairs populated the open areas making more meeting and refreshment space available.  The NAB exhibition is substantially more widely attended than the conference, and this year several theatres were provided on the show floor for sessions any 'exhibits only' attendee could watch.  Some content is now available here: https://nabshow.com/2022/videos-on-demand/
For the most part this was a show of 'consolidation' rather than 'innovation'. For example, exhibitors were enjoying welcoming their partners and customers face-to-face rather than launching significant new products.  Codecs standardised during the past several years were finally reaching mainstream support, with AV1, VP9 and HEVC well-represented across vendors. SVT-AV1 (Scalable Vector Technology) was particularly prevalent, having been well optimised and made available to use license-free by the standard's contributors. VVC (Versatile Video Coding), a more recent and more advanced standard, is still too computationally intensive for commercial use, though a small set made mention of it on their stands (e.g. Fraunhofer).
IP is now fairly ubiquitous within broadcast ecosystems.  To consolidate further, an IP Showcase booth illustrating support across standards bodies and professional organisations championed more sophisticated adoption. A pyramid graphic showing a cascade of 'widely available' to 'rarely available' sub-systems encouraged deeper adoption.
Super Resolution – raising the game for video upscaling
One of the show floor sessions – "Improving Video Quality with AI" – presented advances by iSIZE and Intel. The Intel technology may be particularly interesting to IPTC members, and concerns "Super Resolution." Having followed the subject for over 20 years, for me this was a personal highlight of the show.
Super Resolution is a technique for creating higher resolution content from smaller originals.  For example, achieving a professional quality 1080p video from a 480p source, or scaling up a social media-sized image for feature use.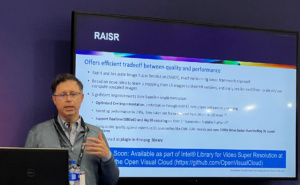 A few years ago a novel and highly effective new Super Resolution method was innovated ("RAISR", see https://arxiv.org/abs/1606.01299); this represented a major discontinuity in the field, albeit with the usual mountain of investment and work needed to take the 'R' (research) to 'D' (development).
This is exactly what Intel have done, and the resulting toolsets will be made available at no cost at the company's Open Visual Cloud repository at the end of May.
Intel invested four years in improving the AI/ML algorithms (having created a massive ground truth library for learning), optimising to CPUs for performance and parallelisation, and then engineering the 'applied' tools developers need for integration (e.g. Docker containers, FFmpeg and GStreamer plug-ins). Performance will now be commercially robust.
The visual results are astonishing, and could have a major impact on the commercial potential of photographic and film/video collections needing to reach much higher resolutions or even to repair 'blurriness'.
Next year's event is the centennial of the first NAB Show and takes place from April 15th-19th in Las Vegas.
– Pam Fisher – Lead, IPTC Video Metadata Working Group