Categories
Archives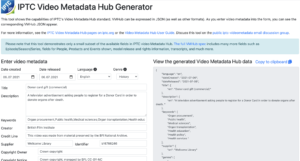 IPTC's Video Metadata Working Group is happy to announce that the first version of the IPTC Video Metadata Hub Generator tool has been released. It can be used to create IPTC Video Metadata Hub records without any knowledge of the underlying technical metadata schema.
The Video Metadata Hub tool serves as a demonstrator to show how easy it could be to enter metadata for a video using the Video Metadata Hub common video metadata schema. It illustrates the power of Video Metadata Hub to video architects, digital asset managers and developers of video software and systems.
How do I use the Video Metadata Hub Generator?
To use the tool, simply start typing text into fields in the form on the left hand side of the screen. The right-hand side will automatically update showing a JSON version of the VMHub data according to the IPTC Video Metadata Hub JSON schema.
Because one of the features of IPTC Video Metadata Hub is its rich set of mappings to other well-known video formats, we will be adding other output formats such as XML (NewsML-G2), EBUCore, XMP and EIDR.
What can I do with the output?
The resulting JSON file can be used to supply data to IT systems. Alternatively, the generated JSON file can be saved alongside your video assets as a "sidecar". This usage is explained in the section of the IPTC Video Metadata Hub User Guide called "Using Video Metadata Hub with your video content".
In the future, we hope that Video Metadata Hub properties will be built into many video editing tools and digital asset management systems, along with a common way of storing the metadata properties embedded into video files. When this has happened, users will be able to fill out standardised metadata fields in one tool and then view the entered metadata when loading that video file into another tool.
The current version of the Video Metadata Hub Generator shows only a small subset of the 91 Video Metadata Hub fields. In the future, we aim to add a control that lets users specify their use case (for example "video archives" or "news agency") and all of the relevant fields for that use case would be displayed.
For more information, see the IPTC Video Metadata Hub pages on iptc.org or the Video Metadata Hub User Guide.
We are very interested in feedback from users. Join the conversation about this tool on the public iptc-videometadata email discussion group.