Categories
Archives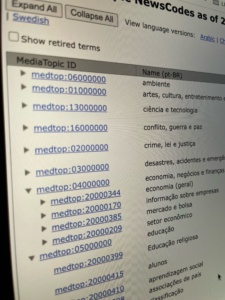 As is now traditional, the IPTC NewsCodes Working Group has released our regular update at the end of the calendar quarter.
This release includes updates to the Media Topic and Item Relation CVs.
Changes to the Media Topic vocabulary
Label and/or definition changes:
Retired terms:
Hierarchy moves:
New terms:
The release also includes no-NN (New Norwegian) translations for the updates released in Q2 2022. Other languages were already updated over previous months.
Changes to other Controlled Vocabularies
The itemrelation CV is used in NewsML-G2 to show types of links between news items. The vocabulary now has two new terms:
Thanks to everyone from IPTC members and users of the NewsCodes CV for suggesting terms, and to the NewsCodes and Sports Content Working Groups who helped to put this release together.