Categories
Archives
Next Thursday 10th March, IPTC members will be presenting a webinar on IPTC Media Topics and Wikidata. It will be held in association with the European Broadcasting Union as part of the EBU Wikidata Workshop.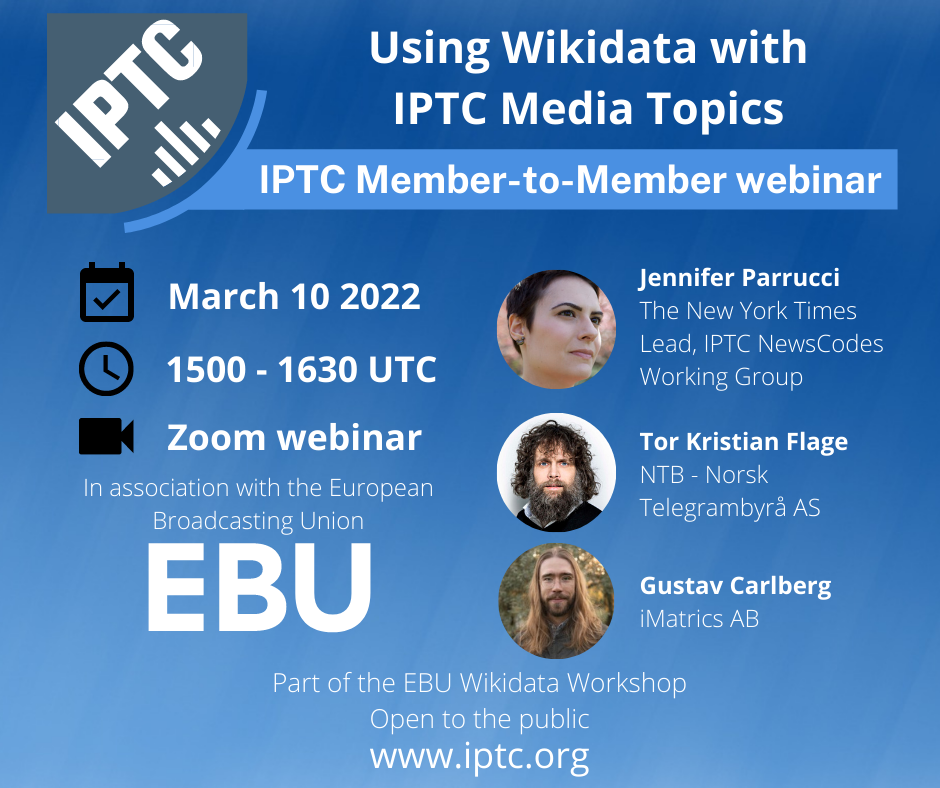 The webinar is part of our series of "member-to-member" webinars, but as this is a special event in conjunction with EBU, attendance is open to the public.
The IPTC component of the workshop features Jennifer Parrucci of The New York Times, lead of the IPTC NewsCodes Working Group which manages the Media Topics vocabulary, and Managing Director of IPTC Brendan Quinn, introducing Media Topics and how they can be used with Wikidata. Then Tor Kristian Flage of Norwegian agency NTB and Gustav Carlberg of vendor and IPTC member iMatrics will present on their recent project to integrate IPTC Media Topics and Wikidata into their newsroom workflow.
Other speakers at the workshop on March 10th include France TV, RAI Italy, YLE Finland, Gruppo RES, Media Press and Perfect Memory.
Register to attend the full workshop (including the IPTC webinar) for free here.