Categories
Archives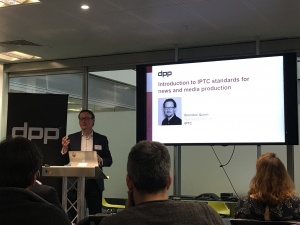 We were proud to be involved at last week's Metadata Exchange for News interoperability demo organised by DPP (formerly known as the Digital Production Partnership).
DPP's "Metadata Exchange for News" is an industry initiative aimed at making the news production process easier.
The DPP team looked around for existing standards on which to base their work, and when they found IPTC's NewsML-G2, they realised that it exactly matched their requirements. NewsML-G2's generic PlanningItem and NewsItem structure meant that it could easily be used to manage news production workflows with no customisation required.
We were treated to a demo of a full news production workflow in the DPP's offices at ITV in London on February 6th.
A full news production workflow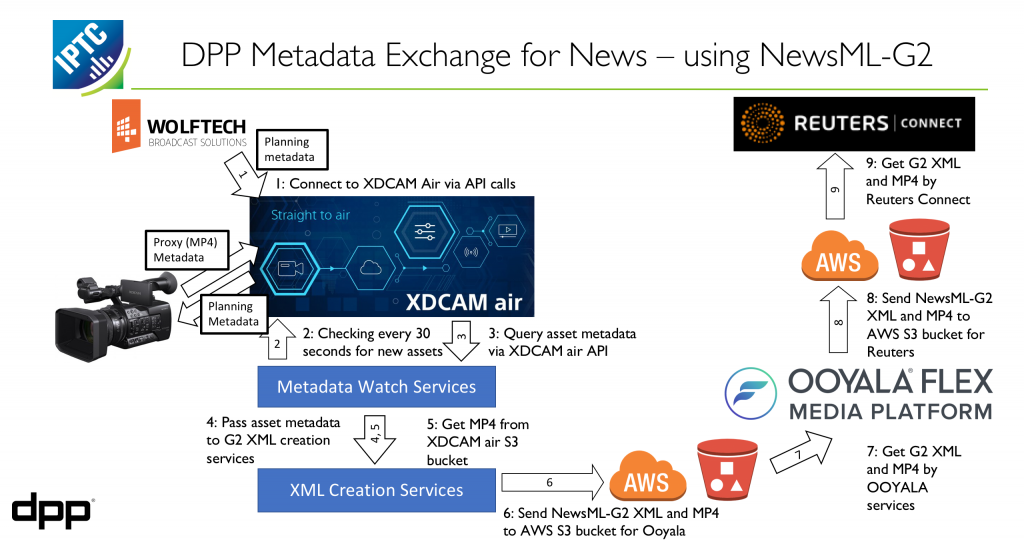 As you can see from the diagram, the workflow involves these steps:
An editor creates a planning record for a news item using Wolftech's planning system, describing metadata for the planned story
The system sends the planning item as NewsML-G2 to Sony's XDCAM Air system which converts it to Sony's proprietary planning metadata and sends it directly to a camera
XDCAM Air retrieves the footage from the camera, links it to the planning metadata using the NewsML-G2 IDs, back into XDCAM Air which is then retrieved by some simple custom web services
The web services send NewsML-G2 NewsItem metadata along with the MP4 video file to Ooyala's Flex Media Platform via an Amazon Web Services S3 bucket
Ooyala Flex Media Platform sends the media and metadata to the platforms that require it, in this case the Reuters Connect video browsing and distribution platform.
The NewsML-G2 integrations were built for the demo but the idea is that they will soon become standard features of the products involved. All parties reported that implementing NewsML-G2 was fast and fairly painless!
Thanks to all involved and special thanks to Abdul Hakim of DPP for leading the project and organising the demo day.
Look out for an IPTC Webinar on this topic soon!