Categories
Archives
Previously, we shared​ that Google was making image credits and usage rights information more visible on Google Images. Google now displays information about image copyright and ownership details, alongside creator and credit info, when websites and photo-owners make that information available for Google to crawl. Since the announcement there has been steady growth in the amount images containing these embedded metadata fields, which in turn has helped drive greater user awareness of copyright for images on the internet.
Up to now, users have seen the IPTC metadata information when they click on the "Image Credits" link in the "Google Images viewer" – the panel that appears when a user selects an image. Starting from today, users will begin to see this information directly in the viewer, making this rights-related information even more visible.
You can see an example of what this looks like below: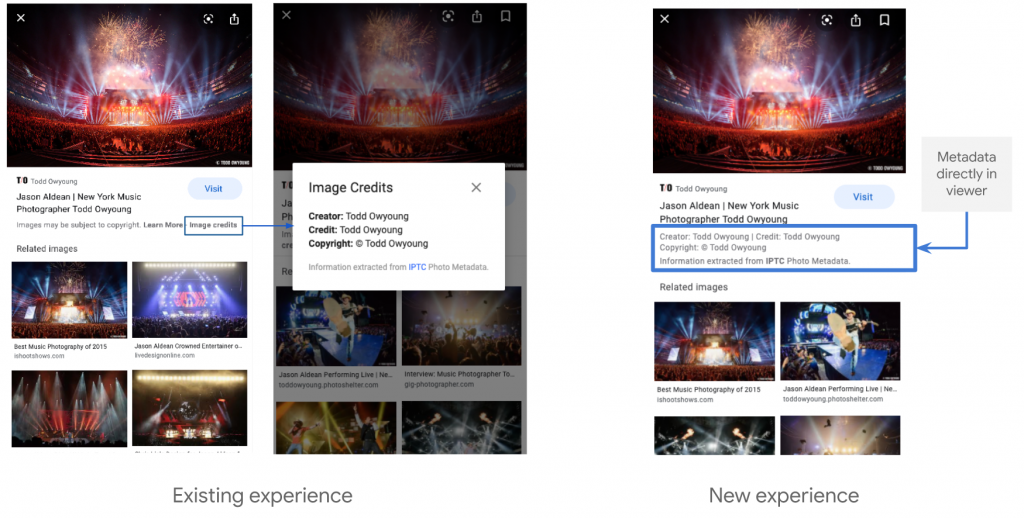 The Google Images team has said in a statement: "We are committed to helping people understand the nature of the content they're looking at on Google Images. This effort to make IPTC-related information more visible is one more step in that direction."
For more information on how you can embed rights and credits metadata in your photos, please see our Quick Guide to IPTC Photo Metadata and Google Images.
If you create photo editing or manipulation software and are looking for more information, please consult the Quick Guide or contact us for more information and advice.
We are very happy to continue working with Google and our partner organisation CEPIC on this and other developments in this area. We look forward to making an announcement about the launch of the related "Licensable Images" feature over the summer.