Categories
Archives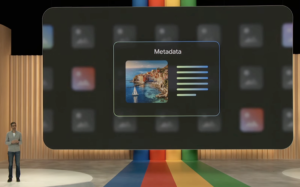 At today's Google I/O event keynote, Sundar Pichai, CEO of Google, explained how Google will be using embedded IPTC image metadata to signal visual media created by generative AI models.
"Moving forward, we are building our models to include watermarking and other techniques from the start," Pichai said. "If you look at a synthetic image, it's impressive how real it looks, so you can imagine how important this is going to be in the future.
"Metadata allows content creators to associate additional context with original files, giving you more information whenever you encounter an image. We'll ensure every one of our AI-generated images has that metadata."
The IPTC Photo Metadata section of Google Images' guidance on metadata has been updated with new guidance on the DigitalSourceType field:

This follows the guidance on IPTC Photo Metadata for Generative AI that was recently published by IPTC.
"AI-Generated" label on Google Images
The above guidance hints at an "AI-generated label" to be used on Google Images in the future. Google recommends that all creators of AI-generated images use the IPTC Digital Source Type property to signal AI-generated content. While Google says that "you may not see the label in Google Images right away", it appears that it will soon be available in Google Images search results.