Categories
Archives

On Tuesday 12 November 2023, a group of news, journalism and media organisations released what they call the "Paris Charter on AI and Journalism." Created by 17 organisations brought together by Reporters sans frontières and chaired by journalist and Nobel Peace Prize laureate Maria Ressa, the Charter aims to give journalism organisations some guidelines that they can use to navigate the intersection of Artificial Intelligence systems and journalism.
The IPTC particularly welcomes the Charter because it aligns well with several of our ongoing initiatives and recent projects. IPTC technologies and standards give news organisations a way to implement the Charter simply and easily in their existing newsroom workflows.
In particular, we have some comments to offer on some principles:
Principle 3: AI SYSTEMS USED IN JOURNALISM UNDERGO PRIOR, INDEPENDENT EVALUATION
"The AI systems used by the media and journalists should undergo an independent, comprehensive, and thorough evaluation involving journalism support groups. This evaluation must robustly demonstrate adherence to the core values of journalistic ethics. These systems must respect privacy, intellectual property and data protection laws."
We particularly agree that AI systems must respect intellectual property laws. To support this, we have recently released the Data Mining property in the IPTC Photo Metadata Standard which allows content owners to express any permissions or restrictions that they apply regarding the use of their content in Generative AI training or other data mining purposes. The Data Mining property is also supported in IPTC Video Metadata Hub.
Principle 5: MEDIA OUTLETS MAINTAIN TRANSPARENCY IN THEIR USE OF AI SYSTEMS.
"Any use of AI that has a significant impact on the production or distribution of journalistic content should be clearly disclosed and communicated to everyone receiving information alongside the relevant content. Media outlets should maintain a public record of the AI systems they use and have used, detailing their purposes, scopes, and conditions of use."
To enable clear declaration of generated content, we have created extra terms in the Digital Source Type vocabulary to express content that was created or edited by AI. These values can be used in both IPTC Photo Metadata and IPTC Video Metadata Hub.
Principle 6: MEDIA OUTLETS ENSURE CONTENT ORIGIN AND TRACEABILITY.
"Media outlets should, whenever possible, use state-of-the-art tools that guarantee the authenticity and provenance of published content, providing reliable details about its origin and any subsequent changes it may have undergone. Any content not meeting these authenticity standards should be regarded as potentially misleading and should undergo thorough verification."
Through IPTC's work with Project Origin, C2PA and the Content Authenticity Initiative, we are pushing forward in making provenance and authenticity technology available and accessible to journalists and newsrooms around the world.
In conclusion, the Charter says: "In affirming these principles, we uphold the right to information, champion independent journalism, and commit to trustworthy news and media outlets in the era of AI."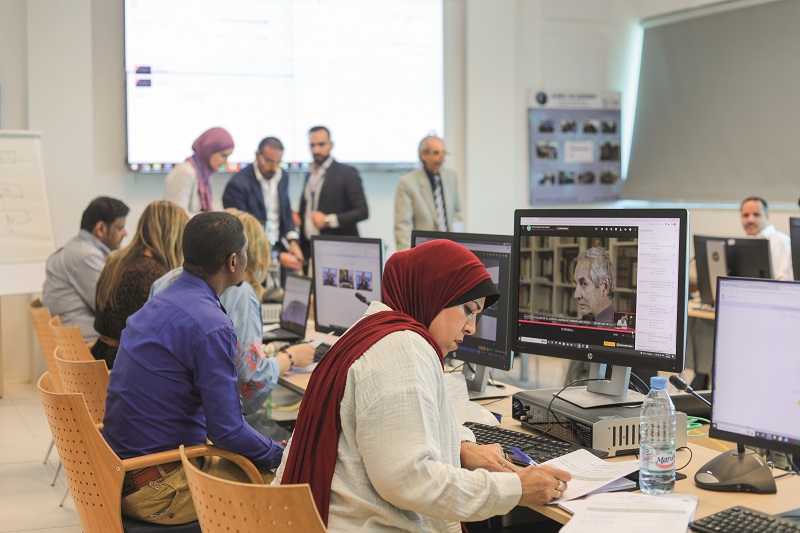 This weekend at the IBC broadcast industry event in Amsterdam, the Arab States Broadcasting Union (ASBU) will launch its news exchange network, ASBU Cloud, with IPTC's NewsML-G2 standard at its core.
Developed for ASBU by IPTC member Broadcast Solutions, a systems integrator in the broadcast industry, ASBU Cloud uses NewsML-G2 to distribute content to partners.
After evaluating several metadata formats, ASBU chose to implement NewsML-G2 as a metadata schema and worked with IPTC to implement the standard. This ensures that ASBU content can be used easily by other international organisations like the European Broadcasting Union (EBU) and Asia-Pacific Broadcasting Union (ABU).
Broadcast Solutions System Architect Jean-Christophe Liechti explained the use of NewsML-G2 in an interview with Broadcast Pro magazine: "This XML-based standard for news exchange was developed and is maintained by the International Press Telecommunications Council (IPTC). It's a successor to the original NewsML format and it provides a comprehensive and flexible framework for distributing any type of media, including text, images, audio and video. This metadata standard is language-agnostic. You can use standard dictionaries or manage your own to structure your data. We reached out to IPTC to ensure that our implementation closely met the standard. ASBU exchanges are now available as a NewsML-G2 feed like partner organisations like the EBU or major news organisations like Reuters, AP or AFP."
The project is also based on Amazon Web Services, the Dalet Flex media asset management system, and uses innovative systems like the AI video metadata extraction engine Newsbridge (IPTC's newest member).
The project will be launched at the IBC event in Amsterdam this Sunday, 17 September at 12.00. The launch will take place at the Broadcast Solutions outdoor booth 0.A01 located across from Hall 13 of the RAI exhibition centre.
Read more about ASBU Cloud at Broadcast Pro Middle East or contact IPTC if you're interested in using NewsML-G2 in your own projects.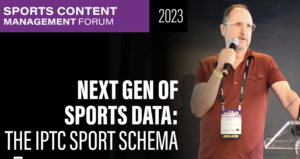 The video recording of IPTC's presentation at the Sports Video Group Content Management Forum has now been released.
Paul Kelly, Lead of the IPTC Sports Content Working Group, gave a live presentation introducing the IPTC Sport Schema to participants at the event, held in New York City in July 2023.
Many of those participants have helped with the development and testing of the new model for sports data, including PGA Tour, NBA, NFL, NHL and more.
The full video is now available on SVG's on-demand video platform, SVG Play.
In the presentation, Paul describes among other things:
the motivation for the new model
how it is different from IPTC's existing sports standard SportsML
how it can handle sports from tennis to athletics to football to golf and more
how it might be used by broadcasters and sports data providers to attach sports data to video and other forms of media content
The Sports Content Working Group is now putting the final touches to the schema and its supporting documentation before it is put to the IPTC Standards Committee to be turned into an official IPTC standard.
In September 2022, IPTC Managing Director Brendan Quinn was invited to attended a workshop at the Royal Society in London, held in conjunction with the BBC. It was convened to discuss concerns about content provenance, threats to society due to misinformation and disinformation, and the idea of a "public-service internet."
A note summarising the outcomes of the meeting has now been published. The Royal Society says, "This note provides a summary of workshop discussions exploring the potential of digital content provenance and a 'public service internet'."
The workshop note gives a summary of key takeaways from the event:
Digital content provenance is an imperfect and limited – yet still critically important – solution to the challenge of AI-generated misinformation.
A provenance-establishing system that can account for the international and culturally diverse nature of misinformation is essential for its efficacy.
Digital content provenance tools present significant technical and ethical challenges, including risks related
to privacy, security and literacy.
Understanding how best to embed ideas such as digital content provenance into counter-misinformation strategies may require revisiting the rules which dictate how information is transmitted over the internet.
A 'public service internet' presents an interesting and new angle through which public service objectives can shape the information environment; however, the end state of such a system requires greater clarity and should include a wide range of voices, including historically excluded groups.
The IPTC is already participating in several projects looking at concrete responses to the problems of misinformation and disinformation in the media, via our work theme on Trust and Credibility in the Media. We are on the Steering Committee of Project Origin, and work closely with C2PA and the Content Authenticity Initiative.
The IPTC looks forward to further work in this area.The IPTC and its members will be happy to contribute to more workshops and studies by the Royal Society and other groups.
In partnership with the IPTC, the PLUS Coalition has published for public comment a draft on proposed revisions to the PLUS License Data Format standard. The changes cover a proposed standard for expressing image data mining permissions, constraints and prohibitions. This includes declaring in image files whether an image can be used as part of a training data set used to train a generative AI model.
Review the draft revisions in this read-only Google doc, which includes a link to a form for leaving comments.
Here is a summary of the new property:
XMP Property
plus:DataMining
XMP Value Type
URL
XMP Category
External
Namespace URI
http://ns.useplus.org/ldf/xmp/1.0/DataMining
Comments

A prohibition on the data mining of an asset may or may not not prohibit use of that asset under applicable regional laws, which may or may not permit data mining for purposes such as search, research, and search indexing.
The PLUS "Other Constraints" property is human readable. The IPTC properties "Embedded Encoded Rights Expression" and "Linked Rights Expression" are machine readable.

Cardinality
0..1
According to the PLUS proposal, the value of the property would be a value from the following controlled vocabulary:
The public comment period will close on July 20, 2023.
If it is accepted by the PLUS membership and published as a PLUS property, the IPTC Photo Metadata Working Group plans to adopt this new property into a new version of the IPTC Photo Metadata Standard at the IPTC Autumn Meeting in October 2023.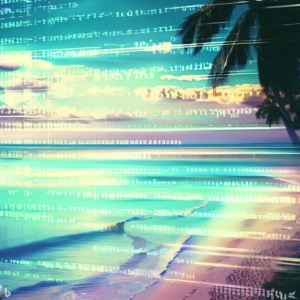 CIPA, the Camera and Imaging Products Association based in Japan, has released version 3.0 of the Exif standard for camera data.
The new specification, "CIPA DC-008-Translation-2023 Exchangeable image file format for digital still cameras: Exif Version 3.0" can be downloaded from https://www.cipa.jp/std/documents/download_e.html?DC-008-Translation-2023-E.
Version 1.0 of Exif was released in 1995. The previous revision, 2.32, was released in 2019. The new version introduces some major changes so the creators felt it was necessary to increment the major version number.
Fully internationalised text tags
In previous versions, text-based fields such as Copyright and Artist were required to be in ASCII format, meaning that it was impossible to express many non-English words in Exif tags. (In practice, many software packages simply ignored this advice and used other character sets anyway, violating the specification.)
In Exif 3.0, a new datatype "UTF-8" is introduced, meaning that the same field can now support internationalised character sets, from Chinese to Arabic and Persian.
Unique IDs
The definition of the ImageUniqueID tag has been updated to more clearly specify what type of ID can be used, when it should be updated (never!), and to suggest an algorithm:
This tag indicates an identifier assigned uniquely to each image. It shall be recorded as an ASCII string in hexadecimal notation equivalent to 128-bit fixed length UUID compliant with ISO/IEC 9834-8. The UUID shall be UUID Version 1 or Version 4, and UUID Version 4 is recommended. This ID shall be assigned at the time of shooting image, and the recorded ID shall not be updated or erased by any subsequent editing.
Guidance on when and how tag values can be modified or removed
Exif 3.0 adds a new appendix, Annex H, "Guidelines for Handling Tag Information in Post-processing by Application Software", which groups metadata into categories such as "structure-related metadata" and "shooting condition-related metadata". It also classifies metadata in groups based on when they should be modified or deleted, if ever.
| | | |
| --- | --- | --- |
| Category | Description | Examples (list may not be exhaustive) |
| Update 0 | Shall be updated with image structure change | DateTime (should be updated with every edit), ImageWidth, Compression, BitsPerSample |
| Update 1 | Can be updated regardless of image structure change | ImageDescription, Software, Artist, Copyright, UserComment, ImageTitle, ImageEditor, ImageEditingSoftware, MetadataEditingSoftware |
| Freeze 0 | Shall not be deleted/updated at any time | ImageUniqueID |
| Freeze 1 | Can be deleted in special cases | Make, Model, BodySerialNumber |
| Freeze 2 | Can be corrected [if wrong], added [if empty] or deleted [in special cases] | DateTimeOriginal, DateTimeDigitized, GPSLatitude, GPSLongitude, LensSpecification, Humidity |
Collaboration between CIPA and IPTC
CIPA and IPTC representatives meet regularly to discuss issues that are relevant to both organisations. During these meetings IPTC has contributed suggestions to the Exif project, particularly around internationalised fields and unique IDs.
We are very happy for our friends at CIPA for reaching this milestone, and hope to continue collaborating in the future.
Developers of photo management software understand that values of Exif tags and IPTC Photo Metadata properties with a similar purpose should be synchronised, but sometimes it wasn't clear exactly which properties should be aligned. IPTC and CIPA collaborated to create a Mapping Guideline to help software developers implement it properly. Most professional photo software now supports these mappings.
Complete list of changes in Exif 3.0
The full set of changes in Exif 3.0 are as follows (taken from the history section of the PDF document):
Added Tag Type of UTF-8 as Exif specific tag type.

Enabled to select UTF-8 character string in existing ASCII-type tags

Enabled APP11 Marker Segment to store a Box-structured data compliant with the JPEG System standard
Added definition of Box-structured Annotation Data
Added and changed the following tags:

Added Title Tag
Added Photographer Information related Tags (Photographer and ImageEditor)
Added Software Information related Tags (CameraFirmware, RAWDevelopingSoftware, ImageEditingSoftware, and MetadataEditingSoftware)
Changed Software, Artist, and ImageUniqueID
Corrected incorrect definition of GPSAltitudeRef
GPSMeasureMode tag became to support positioning information obtained from GNSS in addition to GPS

Changed the description support levels of the following tags:

XResolution
YResolution
ResolutionUnit
FlashpixVersion

Discarded Annex E.3 to specify Application Software Guidelines
Added Annex H. (at the time of publication) to specify Guidelines for Handling Tag Information in Post-processing by Application Software
Added Annex I.and J. (both at the time of publication) for supplemental information of Annotation Data
Added Annex K. (at the time of publication) to specify Original Preservation Image
Corrected errors, typos and omissions accumulated up to this edition
Restructured and revised the entire document structure and style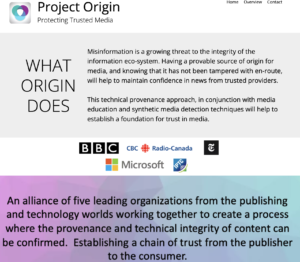 The IPTC is very happy to announce that it has joined the Steering Committee of Project Origin, one of the industry's key initiatives to fight misinformation online through the use of tamper-evident metadata embedded in media files.
After working with Project Origin over a number of years, and co-hosting a series of workshops during 2022, the organisation formally invited the IPTC to join the Steering Committee.
Current Steering Committee members are Microsoft, the BBC and CBC / Radio Canada. The New York Times also participates in Steering Committee meetings through its Research & Development department. 
"We were very happy to co-host with Project Origin a productive series of webinars and workshops during 2022, introducing the details of C2PA technology to the news and media industry and discussing the remaining issues to drive wider adoption," says Brendan Quinn, Managing Director of the IPTC.
C2PA, the Coalition for Content Provenance and Authenticity, took a set of requirements from both Project Origin and the Content Authenticity Initiative to create a technical means of associating media files with information on the origin and subsequent modifications of news stories and other media content.
"Project Origin's aim is to take the ground-breaking technical specification created by C2PA and make it realistic and relevant for newsrooms around the world," Quinn said. "This is very much in keeping with the IPTC's mission to help media organisations to succeed by sharing best practices, creating open standards and facilitating collaboration between media and technology organisations."
"The IPTC is a perfect partner for Project Origin as we work to connect newsrooms through secure metadata," said Bruce MacCormack, the CBC/Radio-Canada Co-Lead. 
The announcement was made at the Trusted News Initiative event held in London today, 30 March 2023, where representatives of the BBC, AFP, Microsoft, Meta and many others gathered to discuss trust, misinformation and authenticity in news media.
Learn more about Project Origin by contacting us or viewing the video below: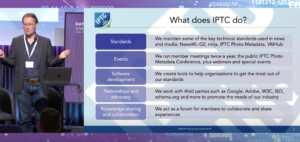 IPTC Managing Director Brendan Quinn presented at the European Broadcasting Union's Data Technology Seminar last week.
The DataTech Seminar, known in previous years as the Metadata Developers Network, brought over 100 technologists together in person in Geneva to discuss topics related to managing data at broadcasters in Europe and around the world.
Brendan spoke on Tuesday 21st March on a panel discussing Artificial Intelligence and the Media. Brendan used the opportunity to discuss IPTC's current work on "do not train" signals in metadata, and on establishing best practices for how AI tools can embed metadata indicating the origin of their media.
The work of C2PA, Project Origin and Content Authenticity Initiative on addressing content provenance and tamper-evident media was also highlighted by Brendan during the panel discussion, as this relates to the prevalence of "deepfake" content that can be created by generative AI engines.
On Wednesday 22nd March, Brendan spoke in lieu of Paul Kelly, lead of the IPTC Sports Content Working Group about the IPTC SportSchema project. The session was called "IPTC Sport Schema – the next generation of sports data." An evolution of IPTC's SportsML standard, IPTC Sport Schema brings our 20 years of experience in sports data markup to the world of Knowledge Graphs and the Semantic Web. The specification is coming close to a version 1, so we were very proud to present it to some of the world's top broadcasters and industry players.
The IPTC SportSchema site sportschema.org now includes comprehensive documentation of the ontology behind sports data model, examples of how it can be queried using SPARQL, example data files and instance diagrams showing how it can be used to represent common sports such as athletics, soccer, golf and hockey.
We look forward to discussing IPTC Sport Schema much more over the coming months, as we draw close to its general release.
EBU members can watch the full presentation at the EBU.ch site.
Our friends at CEPIC are running a webinar in conjunction with Google on the Licensable badge in search results. The webinar is TODAY, February 21st, so there are still a few hours left to join.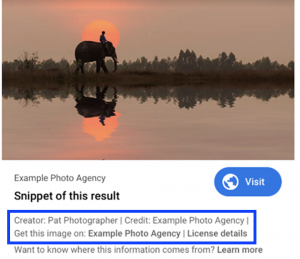 Register for free at https://www.eventbrite.com/e/google-webinar-image-seo-and-licensable-badge-tickets-532031278877
Google webinar: Image SEO and Licensable Badge
In this webinar, John Mueller, Google's Search Advocate, will cover Image SEO Best Practices and Google's Licensable Badge. For the Licensable Badge, John will give an overview of the product and implementation guidelines. There will also be time for a Q&A session.
One of the methods for enabling your licensing metadata to be surfaced in Google Search results is to embed the correct IPTC Photo Metadata directly into image files. The other is to use schema.org markup in the page hosting the image. We explain more in the Quick Guide to IPTC Photo Metadata on Google Images, but you can also learn about it by attending this webinar.
Tuesday 21st February 2023, at 4 PM – 5PM Central European Time
Topics covered include:
• Image SEO best practices
• Licensable badge in Google image search results
• Q&A
This is a free webinar open to all those interested, not just CEPIC or IPTC members.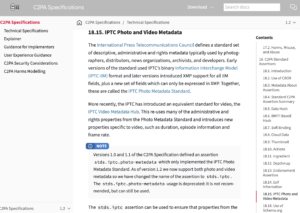 We are happy to announce that IPTC's work with C2PA, the Coalition for Content Provenance and Authority, continues to bear fruit. The latest development is that C2PA assertions can now include properties from both the IPTC Photo Metadata Standard and our video metadata standard, IPTC Video Metadata Hub.
Version 1.2 of the C2PA Specification describes how metadata from either the photo or video standard can be added, using the XMP tag for each field in the JSON-LD markup for the assertion.
For IPTC Photo Metadata properties, the XMP tag name to be used is shown in the "XMP specs" row in the table describing each property in the Photo Metadata Standard specification. For Video Metadata Hub, the XMP tag can be found in the Video Metadata Hub properties table under the "XMP property" column.
We also show in the example assertion how the new accessibility properties can be added using the Alt Text (Accessibility) field which is available in Photo Metadata Standard and will soon be available in a new version of Video Metadata Hub.