Categories
Archives
The IPTC is pleased to announce the final agenda for next week's IPTC Autumn Meeting.
Held online via Zoom from 13.00 to 18.00 UTC from Monday to Wednesday, the meeting will include:
Monday 2 October
Working Group presentations:

Video Metadata Working Group who will be proposing a new version of Video Metadata Hub handling metadata specifying whether content can be included in AI training data and other forms of data mining
Sports Content Working Group who will be proposing the 1.0 version of the new IPTC Sport Schema standard

Member presentations:

Demo of how to implement IPTC Sport Schema in MarkLogic and Semaphore from Progress Software

Guest presentations:

Update from the HAND project: a new approach to identity in media and entertainment
Tuesday 3 October
Working Group presentations:

NewsML-G2 Working Group who will be proposing a new version of NewsML-G2 that includes Digital Source Type metadata to bring it in line with other IPTC standards
Photo Metadata Working Group who will be proposing a new version of the IPTC Photo Metadata Standard handling metadata specifying whether content can be included in AI training data and other forms of data mining
NewsCodes Working Group (including a discussion of a proposed new vocabulary on "editorial tone")

Member presentations:

Broadcast Solutions presenting the ASBU Cloud project, based on NewsML-G2
New member Newsbridge presenting how their systems implement IPTC standards

Guest presentations:

Update on Project Origin and C2PA, featuring the CEO of Media City Bergen, Helge Svela
Wednesday 4 October
IPTC Annual General Meeting 2023

Election of IPTC Board of Directors and Chair
Approval of budget for 2023
Updates from the Managing Director and Chair of the Board of Directors

IPTC Autumn 2023 Standards Committee meeting

Votes on new versions of NewsML-G2, Photo Metadata Standard, Video Metadata Hub and presenting proposed new standard IPTC Sport Schema

Working Group presentations:

News in JSON Working Group

Working Group and member presentations:

Discussion on a simple rights format
DPP Live Production Exchange (LPX) project from CNN and new member Arqiva
IPTC member representatives can view the full schedule on the IPTC Autumn Meeting 2023 event page in the Members-Only Zone.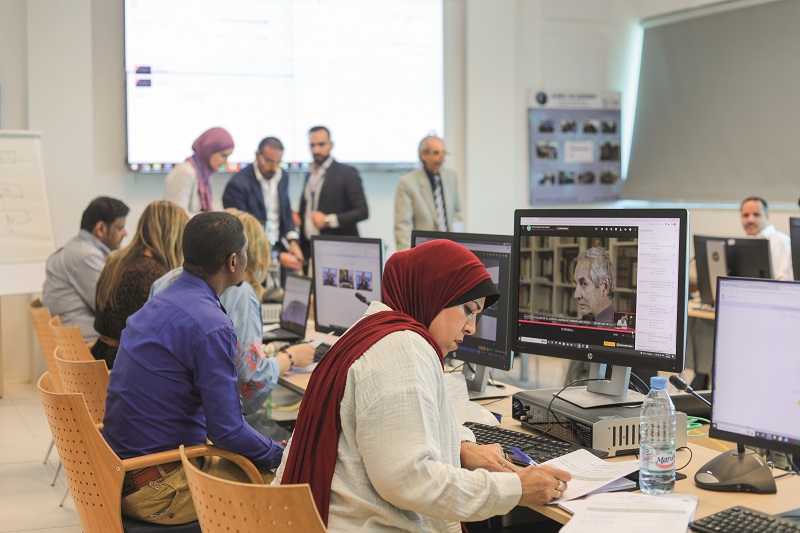 This weekend at the IBC broadcast industry event in Amsterdam, the Arab States Broadcasting Union (ASBU) will launch its news exchange network, ASBU Cloud, with IPTC's NewsML-G2 standard at its core.
Developed for ASBU by IPTC member Broadcast Solutions, a systems integrator in the broadcast industry, ASBU Cloud uses NewsML-G2 to distribute content to partners.
After evaluating several metadata formats, ASBU chose to implement NewsML-G2 as a metadata schema and worked with IPTC to implement the standard. This ensures that ASBU content can be used easily by other international organisations like the European Broadcasting Union (EBU) and Asia-Pacific Broadcasting Union (ABU).
Broadcast Solutions System Architect Jean-Christophe Liechti explained the use of NewsML-G2 in an interview with Broadcast Pro magazine: "This XML-based standard for news exchange was developed and is maintained by the International Press Telecommunications Council (IPTC). It's a successor to the original NewsML format and it provides a comprehensive and flexible framework for distributing any type of media, including text, images, audio and video. This metadata standard is language-agnostic. You can use standard dictionaries or manage your own to structure your data. We reached out to IPTC to ensure that our implementation closely met the standard. ASBU exchanges are now available as a NewsML-G2 feed like partner organisations like the EBU or major news organisations like Reuters, AP or AFP."
The project is also based on Amazon Web Services, the Dalet Flex media asset management system, and uses innovative systems like the AI video metadata extraction engine Newsbridge (IPTC's newest member).
The project will be launched at the IBC event in Amsterdam this Sunday, 17 September at 12.00. The launch will take place at the Broadcast Solutions outdoor booth 0.A01 located across from Hall 13 of the RAI exhibition centre.
Read more about ASBU Cloud at Broadcast Pro Middle East or contact IPTC if you're interested in using NewsML-G2 in your own projects.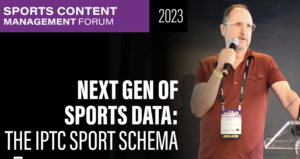 The video recording of IPTC's presentation at the Sports Video Group Content Management Forum has now been released.
Paul Kelly, Lead of the IPTC Sports Content Working Group, gave a live presentation introducing the IPTC Sport Schema to participants at the event, held in New York City in July 2023.
Many of those participants have helped with the development and testing of the new model for sports data, including PGA Tour, NBA, NFL, NHL and more.
The full video is now available on SVG's on-demand video platform, SVG Play.
In the presentation, Paul describes among other things:
the motivation for the new model
how it is different from IPTC's existing sports standard SportsML
how it can handle sports from tennis to athletics to football to golf and more
how it might be used by broadcasters and sports data providers to attach sports data to video and other forms of media content
The Sports Content Working Group is now putting the final touches to the schema and its supporting documentation before it is put to the IPTC Standards Committee to be turned into an official IPTC standard.