Categories
Archives
The IPTC NewsCodes Working Group has approved an addition to the Digital Source Type NewsCodes vocabulary.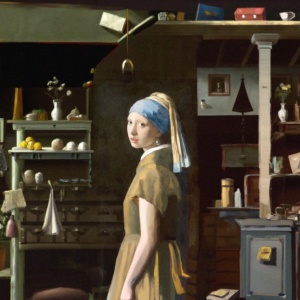 The new term, "Composite with Trained Algorithmic Media", is intended to handle situations where the "synthetic composite" term is not specific enough, for example a composite that is specifically made using an AI engine's "inpainting" or "outpainting" operations.
The full Digital Source Type vocabulary can be accessed from https://cv.iptc.org/newscodes/digitalsourcetype. It can be downloaded in NewsML-G2 (XML), SKOS (RDF/XML, Turtle or JSON-LD) to be integrated into content management and digital asset management systems.
The new term can be used immediately with any tool or standard that supports IPTC's Digital Source Type vocabulary, including the C2PA specification, the IPTC Photo Metadata Standard and IPTC Video Metadata Hub.
Information on the new term will soon be added to IPTC's Guidance on using Digital Source Type in the IPTC Photo Metadata User Guide.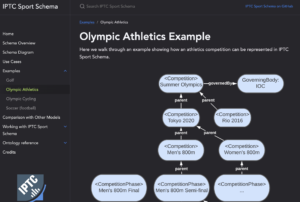 NEW YORK, NY, 26 JULY 2023: The IPTC today announced the beginning of a public feedback and review period of IPTC Sport Schema, which aims to be "the standard for the next generation of sports data."
The announcement was made by Paul Kelly, Lead of the IPTC Sports Content Working Group, at the Sports Video Group's Content Management Forum held at 230 Fifth Penthouse, New York.
"The SVG Content Management Forum is attended by senior tech experts from sports broadcasters and sports leagues from the US and around the world, so it is the perfect place to launch the IPTC Sport Schema," said Kelly. "Many members of SVG have advised us on our work so far, including organisations such as Warner Bros Discovery, NBC Universal, PGA TOUR, Major League Baseball and Riot Games. Presenting our work at their event is a great way to say thanks for their help."
While not yet an official IPTC standard, the IPTC Sports Content Working Group feels that the schema describing IPTC Sport Schema is solid enough to be published for public feedback.
Sports data for the era of linked data and knowledge graphs
The purpose of the IPTC Sport Schema project is to create a new RDF-based sports data standard, while making the most of the experience the IPTC has gained from the last 20 years of maintaining SportsML, the open XML-based sports data standard used by news and sports organisations around the world.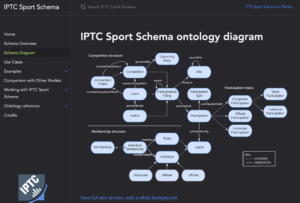 While XML served the industry well for many years, more recently developers and IPTC members have asked the Sports Content Working Group whether a standard would become available in a more modern serialisation format such as JSON, and whether knowledge graph protocols would be supported.
Because it is based on the W3C-standard RDF and OWL specifications, IPTC Sport Schema leverages the wide range of tools and expertise in the world of knowledge graphs, semantic web and linked open data, including the SPARQL query language, the JSON-LD serialisation into JSON format, inference using RDF Schema and OWL, and more.
"Using IPTC Sport Schema, sports leagues can choose to own their data," said IPTC Managing Director Brendan Quinn. "Content publishers or sports leagues can publish open data on their website if they choose, in a way that can be re-mixed and re-used by others around the world." IPTC Sport Schema can also be used for a more traditional model of aggregation and syndication by sports statistics providers who add value to the raw data being collected by sports leagues.
Like its ancestor SportsML, IPTC Sport Schema is created as a generic sports data model that can represent results, statistics, schedules and rosters across many sports. "Plugins" for specific sports extend the generic schema with specific statistics elements for 10 sports such as soccer, motor racing, tennis, rugby and esports. But the generic model can be used to handle any competitive sports competition, either team-based, head-to-head or individual.
As well as IPTC's SportsML standard, the project is based on previous work by the BBC on its BBC Sport Ontology (some of its creators worked on this project). We have also consulted with and analysed related projects and formats such as OpenTrack and the IOC's Olympics Data Feed format.
For more information on IPTC Sport Schema, please see the dedicated site sportschema.org, the project's GitHub repository, 
Those who are interested in the details can see an introduction to the IPTC Sport Schema ontology design, the full ontology diagram or full RDF/OWL ontology documentation, 
There may be significant changes to the schema between now and when it is released as a fully endorsed IPTC Standard, so we don't recommend that it is implemented in production systems yet. But we welcome analysis and experimentation with the model, and look forward to seeing feedback from those who would like to implement it in the real world.
People and organisations who are not IPTC members can give feedback by posting to the IPTC SportsML public discussion group or use the IPTC Contact Us form.
In September 2022, IPTC Managing Director Brendan Quinn was invited to attended a workshop at the Royal Society in London, held in conjunction with the BBC. It was convened to discuss concerns about content provenance, threats to society due to misinformation and disinformation, and the idea of a "public-service internet."
A note summarising the outcomes of the meeting has now been published. The Royal Society says, "This note provides a summary of workshop discussions exploring the potential of digital content provenance and a 'public service internet'."
The workshop note gives a summary of key takeaways from the event:
Digital content provenance is an imperfect and limited – yet still critically important – solution to the challenge of AI-generated misinformation.
A provenance-establishing system that can account for the international and culturally diverse nature of misinformation is essential for its efficacy.
Digital content provenance tools present significant technical and ethical challenges, including risks related
to privacy, security and literacy.
Understanding how best to embed ideas such as digital content provenance into counter-misinformation strategies may require revisiting the rules which dictate how information is transmitted over the internet.
A 'public service internet' presents an interesting and new angle through which public service objectives can shape the information environment; however, the end state of such a system requires greater clarity and should include a wide range of voices, including historically excluded groups.
The IPTC is already participating in several projects looking at concrete responses to the problems of misinformation and disinformation in the media, via our work theme on Trust and Credibility in the Media. We are on the Steering Committee of Project Origin, and work closely with C2PA and the Content Authenticity Initiative.
The IPTC looks forward to further work in this area.The IPTC and its members will be happy to contribute to more workshops and studies by the Royal Society and other groups.