Categories
Archives
Anyone who has managed photo metadata can attest that it is often difficult to know which metadata properties to use for different purposes. It is especially tricky to know how to tag consistently across different metadata standards. For example, how should a copyright notice be expressed in Exif, IPTC Photo Metadata and schema.org metadata?
For software vendors wanting to build accurate mapping into their tools to make life easier for their customers, it's no easier. For a while, a document created by a consortium of vendors known as the Metadata Working Group solved some of the problems, but the MWG Guidelines are no longer available online.
To solve this problem, the IPTC collaborated with Exif experts at CIPA, the camera products industry group that maintains the Exif standard. We also spoke with the team behind schema.org. Based on these conversations, we created a document that describes how to map properties between these formats. The aim is to remove any ambiguity regarding which IPTC Photo Metadata properties are semantically equivalent to Exif tags and schema.org properties.
Generally, Exif tags and IPTC Photo Metadata properties represent different things: Exif mainly represents the technical data around capturing an image, while IPTC focuses on describing the image and its administrative and rights metadata, and schema.org covers expressing metadata in a web page. However, quite a few properties are shared by all standards, such as who is the Creator of the image, the free-text description of what the image shows, or the date when the image was taken. Therefore it is highly recommended to have the same value in the corresponding fields of the different standards.
The IPTC Photo Metadata Mapping Guidelines outlines the 17 IPTC Photo Metadata Standard properties with corresponding fields in Exif and/or Schema.org. Further short textual notes help to implement these mappings correctly.
The intended audience of the document is those managing the use of photo metadata in businesses and the makers of software that handles photo metadata.The IPTC Photo Metadata Mapping Guidelines document can be accessed on the iptc.org website. We encourage IPTC members to provide feedback through the usual channels, and non-members to respond with feedback and questions on the public IPTC Photo Metadata email discussion group.
Next Thursday 10th March, IPTC members will be presenting a webinar on IPTC Media Topics and Wikidata. It will be held in association with the European Broadcasting Union as part of the EBU Wikidata Workshop.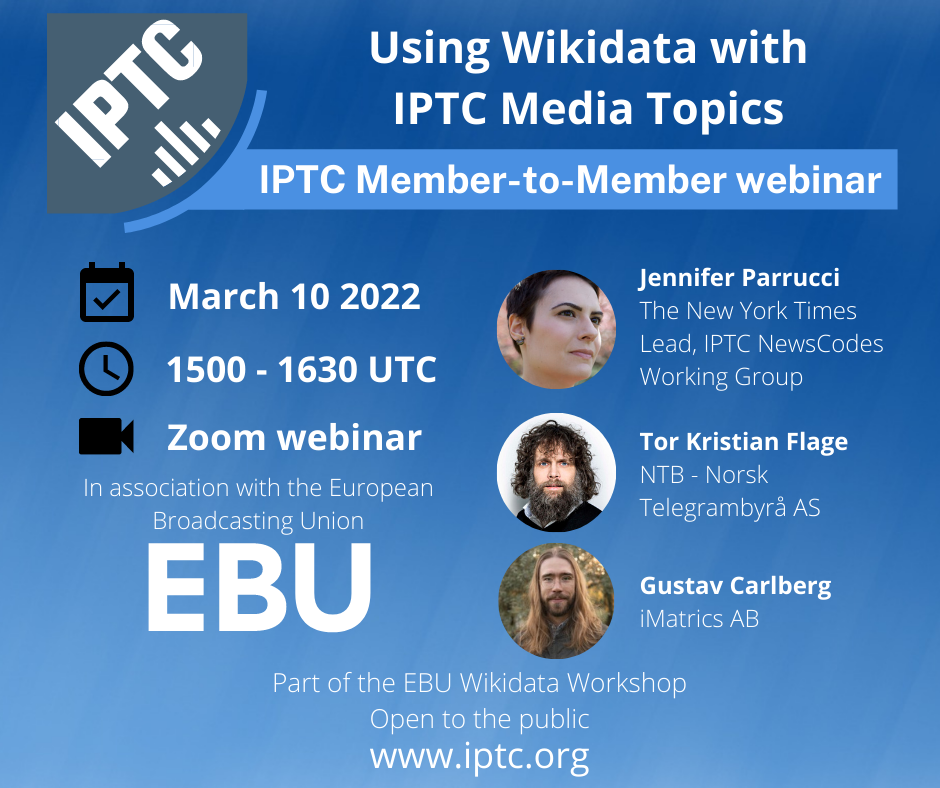 The webinar is part of our series of "member-to-member" webinars, but as this is a special event in conjunction with EBU, attendance is open to the public.
The IPTC component of the workshop features Jennifer Parrucci of The New York Times, lead of the IPTC NewsCodes Working Group which manages the Media Topics vocabulary, and Managing Director of IPTC Brendan Quinn, introducing Media Topics and how they can be used with Wikidata. Then Tor Kristian Flage of Norwegian agency NTB and Gustav Carlberg of vendor and IPTC member iMatrics will present on their recent project to integrate IPTC Media Topics and Wikidata into their newsroom workflow.
Other speakers at the workshop on March 10th include France TV, RAI Italy, YLE Finland, Gruppo RES, Media Press and Perfect Memory.
Register to attend the full workshop (including the IPTC webinar) for free here.