Categories
Archives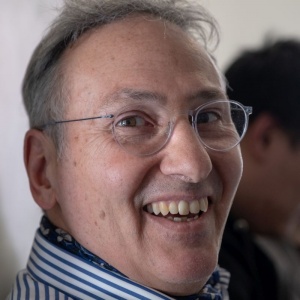 It is with mixed feelings that we say farewell to Stéphane Guérillot, our friend and colleague and Agence France-Presse's Delegate to IPTC for 40 years. On one hand, we are happy that it is time for him to start a well-deserved retirement. But we are sad that we will not see his big smile and hear his always thoughtful and relevant comments and ideas. Stéphane contributed greatly to our Working Groups and on the Standards Committee, which he chaired for many years.
Over this time, Stéphane has contributed to almost all of IPTC's standards, including NewsML and NewsML-G2, IPTC Photo Metadata and its predecessor IIM, NewsCodes and more.
What's more, Stéphane contributed as a Board Member and Treasurer of IPTC for many years, was Chairman of IPTC from 2005 to 2011, and hosted several IPTC Meetings in France. As the main Member Delegate for Agence France-Presse and CEO of AFP's technology subsidiary AFP Blue, Stéphane was key in driving AFP's adoption of IPTC standards, which continues to this day.
We wish Stéphane and his family all the best.
At the recent IPTC Spring Meeting, we surprised Stéphane with a special session remembering his time with IPTC. Many previous members were invited to attend to pass along their congratulations.
Unfortunately, this time we could only say farewell over Zoom. But we are very happy to announce that in recognition for his work, the IPTC Board has granted lifetime Honorary Membership to Stéphane, which means that he is entitled to come to future meetings.
So hopefully we can say au revoir et félicitations in person some time soon!
Last week, Brendan Quinn and Jennifer Parrucci presented about IPTC NewsCodes at the EBU's Metadata Developer Network workshop.
Brendan Quinn of IPTC and Jennifer Parrucci of The New York Times present IPTC's NewsCodes vocabularies, describing what they are, how they are maintained, how they can be used and a look into the future. Including a focus on IPTC MediaTopics, our leading vocabulary for topics of news content. Originally presented at the EBU Metadata Developers Network workshop, held online from 25 – 27 May 2021.
The full presentation slides are embedded below. A video recording of the session, including questions and answers, is available to EBU members via the EBU MDN website.