Categories
Archives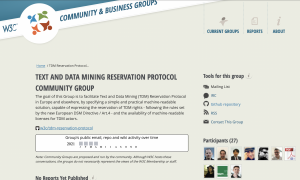 Brendan Quinn, Managing Director of IPTC, spoke on 20 April 2021 at the regular meeting of the W3C Text and Data Mining Reservation Protocol Community Group.
The Community Group, open to anyone to join, is discussing how to "facilitate a technical protocol to reserve a publisher's right for content to be made available for text and data mining (TDM). The solution should be capable of expressing the reservation of TDM rights – following the rules set by Article 4 of the new European DSM Directive – and the availability of machine-readable licenses for TDM actors."
The Community Group is looking at various technologies for representing machine-readable licences, and Brendan presented IPTC's RightsML as a possible option. Based on W3C's ODRL, RightsML allows rights holders to specify permissions, prohibitions and constraints on usage of all types of media content, so it may be a good candidate for representing rights around data mining.
Laurent Le Meur, Chair of the TDM Reservation Protocol Community Group and previous contributor to IPTC, presented at the IPTC Autumn Meeting in 2020 to discuss the proposed project.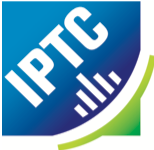 We are excited to present to IPTC members the full agenda for the IPTC Spring Meeting 2021, taking place online from Monday May 10th to Wednesday May 12th.
We are honoured to have presentations from IPTC members Adobe, BBC, Agence France-Presse (AFP), The New York Times, Bloomberg, Austria Press Agentur (APA) and new member Scribely, along with guest presentations from the World Wide Web Consortium (W3C), Data Language, TV2 Denmark, and YLE Finland.
Themes include
metadata for content accessibility;
knowledge graphs and semantic technologies in news and media; and
trust and credibility, including a presentation by Leonard Rosenthal of the new Coalition for Content Authenticity and Provenance
Plus we will have all our regular presentations from our Working Groups in NewsML-G2, Photo Metadata, Video Metadata, NewsCodes (including Media Topics), News in JSON and Sports. We will also have sessions for our Standards Committee and PR Committee.
There will also be some time allocated each day to member networking. While we can't match the networking opportunities of an in-person meeting, we will be using some new tools to make networking more interesting and approachable for members.
We are also planning to hold a special webinar the week before the meeting Introducing knowledge graphs for the media, so we can get straight into the interesting content during the member meeting and not spend time introducing the concepts.
All IPTC member organisations are welcome to attend at no cost.
IPTC members can see more information on the Spring Meeting 2021 page in the IPTC Members-Only Zone.