Categories
Archives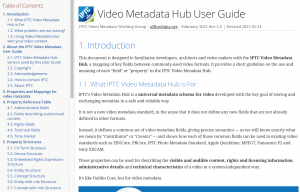 The IPTC Video Metadata Working Group is happy to announce the 1.0 version of the  IPTC Video Metadata Hub User Guide.
The guide introduces IPTC's Video Metadata Hub recommendation and explains how it can be used to solve metadata management problems in any organisation that processes video content, from news agencies to advertising agencies; libraries, galleries and museums; long-form video producers such as broadcasters and movie studios; and stock video services.
As well as explaining the details of each field in the IPTC Video Metadata Hub standard, it shows through a set of use cases how it can be used in a variety of common scenarios to store rights, descriptive and administrative metadata for video content.
Pam Fisher, group lead, and the IPTC's Video Metadata Working Group welcome feedback on the document. If your organisation handles video content, please read it and let us know what you think and what can be explained better. Comments can be send via this site's Contact Us form or to the public Video Metadata Hub discussion list at https://groups.io/g/iptc-videometadata.
The guide can be seen at https://iptc.org/std/videometadatahub/userguide/.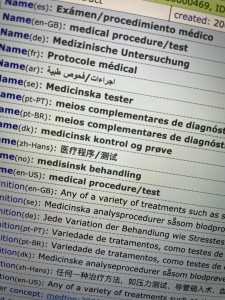 We have just released a new version of IPTC NewsCodes, which includes many changes to Media Topics.
This is the first major update since August 2020 (although we released new versions in September and October 2020 to add translations of new terms).
The changes are detailed below:
New translations for Media Topics
After many requests, we have now added an "en-US" language version, based on a contribution by Jeff Brown of Fourth Estate. Thanks Jeff!
Mostly it simply changes British English words to US English, such as "centre"/"center" and "programme"/"program", but there are a few more substantive changes around cinema / movies and changing "holiday" to "vacation". Also where Jeff had suggested changes to definitions, we often changed them for both British and US English.
en-GB will still be the primary language for Media Topics, but we will keep the en-GB and en-US versions in sync as we make changes.
New Media Topics terms
These were suggested by our collaborators from Ritzau via iMatrics, NTB, TT and AFP. Thanks to all.
Please note that the new terms only exist in en-GB and en-US right now, more translations will be added soon.
Update on 15 March: we have now added translations in Danish (thanks to Ritzau and iMatrics), Nowegian (thanks to NTB), Swedish (thanks to TT) and Portuguese for Brazil and Portugal (thanks to Priberam and Lusa).
Update on 12 April: We have now also added Chinese and German translations for these new and updated terms and definitions. Thanks very much to members Xinhua and dpa for their help!
Retired Media Topics terms
sports facilities (http://cv.iptc.org/newscodes/mediatopic/20000559 (retired)) – use medtop:20001126 "sport venue" instead
inline skating (http://cv.iptc.org/newscodes/mediatopic/20000967 (retired)) – use medtop:20001155 "roller sports" instead
Label changes to Media Topics 
Please note that we only ever make changes to labels to make the meaning clearer, we never change the meaning of a term.
Media Topics hierarchy moves
Definition changes in Media Topics
Updates to correct British English in en-GB definitions: 20000004, 20001181, 20000041, 20000068, 20000094, 20001283, 20000175, 20000246, 20000458, 20001247, 20000608, 20001292, 20000719, 20000724, 20000804, 20001193, 20000807, 20000835, 20001157
Fixes to typos and spelling mistakes in en-GB definitions: 20001187, 20000088, 20000263, 20000469, 20000711
Tweaks to definitions to make the meaning clearer:
Changes to other NewsCodes vocabularies
As usual, the changes can be seen:
Please let us know if you spot any problems. If you are an IPTC member you can post issues, questions and suggestions to the NewsCodes Working Group list at iptc-newscodes-dev@groups.io.