Categories
Archives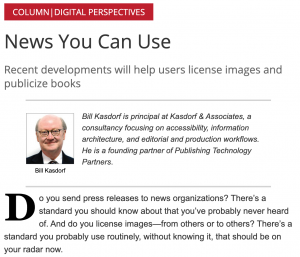 Bill Kasdorf, principal at Kasdorf & Associates and individual member of IPTC, has published his latest column at Publishers Weekly, "News You Can Use", where he promotes IPTC standards including IPTC Photo Metadata and IPTC Media Topics.
As Bill says, "I recently attended the IPTC Autumn Meeting, and at virtually every session, I thought, "People in other sectors of publishing ought to know about what the IPTC has to offer them."
Bill goes on to discuss IPTC's work with Google on exposing IPTC Photo Metadata in Google search results and the Licensable Images feature in Google Images search, explaining how those in the publishing industry can use those features to find out who owns the copyright on an image they might want to re-use, and how to obtain a license to use it.
He also talks about IPTC's Media Topics subject taxonomy, and how publishers could use it for press releases, so they can "be sure the terms you use are the ones the news industry itself uses".
You can view the article on the Publisher's Weekly website.
Thanks Bill for sharing your thoughts and for promoting the IPTC cause!
IPTC Managing Director Brendan Quinn spoke at the FIBEP World Media Intelligence Congress 2020 on Wednesday 18th November.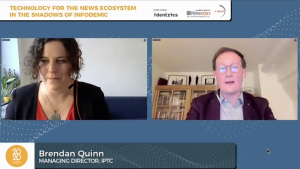 FIBEP is the industry body for the "media intelligence" industry, including media monitoring, public relations and marketing organisations.
FIBEP was founded over 65 years ago (so it is even older than IPTC!) and the FIBEP World Media Intelligence Congress has become one of the largest events for communications, public relations, technology, social media monitoring and marketing professionals alike. It brings together communications professionals from around the world to share best practices, discuss industry developments and innovations, present the latest technology and network through a variety of presentations and panel discussions from industry leaders. So it is in many ways similar to IPTC for the technical side of the news industry.
This year's theme was Exploring and Expanding the Media Intelligence World and the program included a wide range of best practices and topics relevant for media intelligence and communication professionals including social media monitoring, privacy, and data integrity, copyright, the evolution of data consumption, measurement, PR trends, technological developments and future outlooks for communications and media intelligence industries.
Brendan was invited to speak about IPTC's view of the news ecosystem, particularly with a view to online misinformation and disinformation and how the news industry can work together to combat those problems. Brendan discussed IPTC's work on trust and credibility, including the content of the recent IPTC webinar on Trust and Credibility.
Questions from the media intelligence community included what individuals could do to avoid misinformation and spreading false news on social media. Brendan's advice to those who want to learn more about misinformation are in the table:
Thanks very much to FIBEP, especially Romina Gersuni, for inviting us to present. We realised during the preparations for the event that IPTC and FIBEP have a lot in common, so hopefully this will be the first of many collaborations between the two organisations!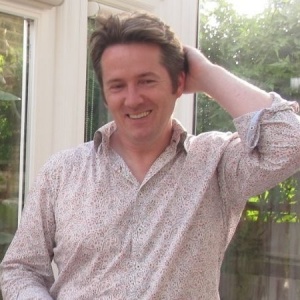 It is with great sadness that we report that Andrew Read passed away suddenly on Sunday 8 November, 2020.
Andy was a passionate member of the IPTC for over 20 years, first through Reuters, then Thomson Reuters and most recently as the BBC's main representative at the IPTC.
Andy contributed to NewsML-G2 and the IPTC News Architecture, RightsML and other rights-related work, and followed our other work including Photo Metadata and our sports standards. A frequent attendee and speaker at our face-to-face IPTC member meetings,  Andy also helped to organise IPTC's London meetings, including the special Rights Day in 2013 and Rights Management in News day in 2017.
A committed believer in the benefit of industry organisations, he also contributed to the EBU's metadata activities and organised collaborations with the DPP. Just a few weeks ago at the IPTC Autumn 2020 Meeting, Andy presented his most recent project at the BBC, an adaptation of the Guardian's open-source digital asset management system for use as the BBC's main image asset library. He was always making connections between IPTC members and outside organisations, research projects and startups, and loved bringing people together to discuss what technology can bring to the media industry.
Andy will be fondly remembered by all of his IPTC colleagues for his friendly, supportive manner and willingness to help anyone with anything.
When IPTC members get together it often feels like a family reunion, and Andy has been a key part of the IPTC family for the past 20 years. He will be sorely missed.
UPDATE: If you would like to share your memories of Andy or make a donation to his preferred charity, please see the tribute site: https://andyread.muchloved.com/