Categories
Archives
The IPTC is very happy to announce that as a result of our collaboration with Google and CEPIC, Google Images's new licensable badge and other related features are now live.
This means that when photo owners include a photograph's Web Statement of Rights (also known as Copyright Info URL)  in an image's embedded metadata, Google will display a "Licensable" badge on the image in Google Images search results and the image will appear when the "View all images with Commercial or other licenses" filter is selected. If the Licensor URL is also added, Google will feature a "get this image on" link that takes users directly to a page on the photo owner's site enabling the user to easily obtain a license to re-use the image elsewhere.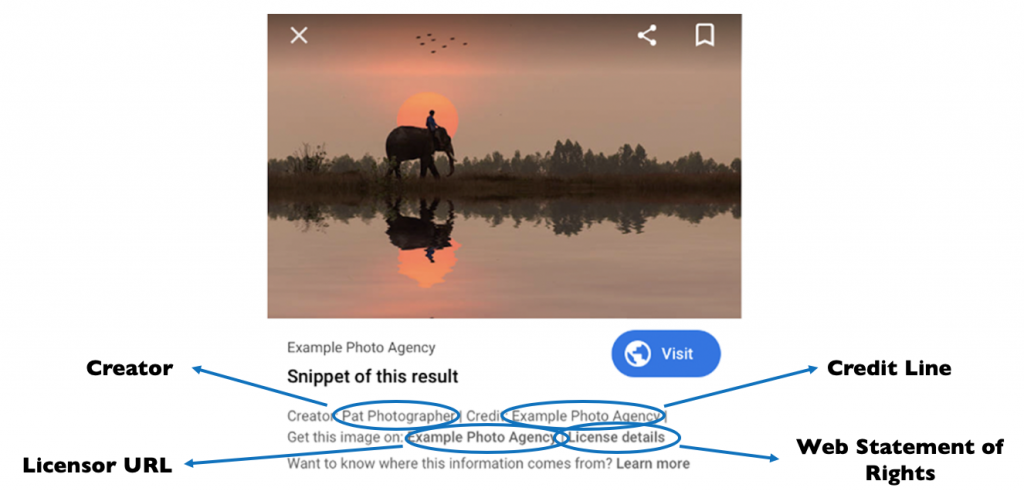 The launch on Google Images comprises three different components:
"Licensable" badge

on image search results for images that have the required metadata fields

Two new links in the Image Viewer (the panel that appears when a user selects an image result) for people to access the image supplier's licensing information, namely:




A

"License details" link

. This directs users to a page defined by the image supplier explaining how they can license and use the image responsibly




A

"Get this image on" link

, which directs users to a page from the image supplier where users can directly take the necessary steps to license the image




A

Usage Rights drop-down filter

in Google Image search results pages to support filtering results for Creative Commons, commercial, and other licenses.



"As a result of a multi-year collaboration between IPTC and Google, when an image containing embedded IPTC Photo Metadata is re-used on a popular website, Google Images will now direct interested users back to the supplier of the image," said Michael Steidl, Lead of the IPTC Photo Metadata Working Group. "This is a huge benefit for image suppliers and an incentive to add IPTC metadata to image files."
The features have been in beta since February, and after extensive testing, refinement and discussion with IPTC, CEPIC and others, Google is rolling out the new features this week.
As we describe in the Quick guide to IPTC Photo Metadata and Google Images, image owners can choose from two methods to enable the Licensable badge and "Get this image" link: embedding IPTC metadata in image files, or including structured schema.org metadata in the HTML of the web page hosting the image.
Of the two approaches, using embedded IPTC metadata has two benefits. Firstly, the embedded metadata stays with the image even when it is re-used, so that the Licensable badge will appear even when the image is re-published on another website.
Secondly, the "Creator", "Copyright" and "Credit" messages are only displayed in search results when they are declared using embedded IPTC metadata.
"The IPTC anticipates that this will lead to increased awareness of image ownership, copyright and licensing issues amongst content creators and users," said Brendan Quinn, Managing Director of IPTC. "By providing direct leads to image owners' websites, we hope that this leads to increased business for image suppliers both large and small."
The Google announcements can be found here: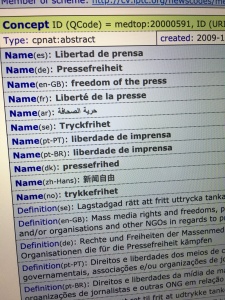 The NewsCodes Working Group is happy to announce the August 2020 update to IPTC NewsCodes.
Here's an overview of the changes in this release:
Namerole vocabulary changes
Media Topics vocabulary changes
Hierarchy changes:
Label and definition changes:
New terms:
Fix broken link and added 

FAQ about contributing suggestions.
As always, HTML browseable versions of the MediaTopics can be found at https://www.iptc.org/std/NewsCodes/treeview/mediatopic/mediatopic-en-GB.html and an Excel version at https://www.iptc.org/std/NewsCodes/IPTC-MediaTopic-NewsCodes.xlsx.
Thanks very much to our Working Group members and contributors, especially Ritzau in Denmark and Australian Broadcasting Corporation in Australia, for their suggestions and support.
Update on 16 September 2020: Chinese translations of new terms are now added.
Please note that the textual changes are currently available in the Danish (dk), Chinese (zh-Hans), English (en-GB), Portuguese (pt-PT and pt-BR for Brazil), Norwegian (no) and Swedish-language (se) versions. More translated versions of the MediaTopics NewsCodes will be made available when their maintainers have updated them.