Categories
Archives
The agenda for the IPTC Spring Meeting (May 11 – 13 2020) has been announced, featuring a focus on news automation.
Brendan Quinn, Managing Director of IPTC, says "we are very excited to host the first virtual meeting of IPTC. All members are encouraged to attend via Zoom video conferencing, and we hope that many members who find it difficult to travel to the face-to-face meetings will take the opportunity to attend the online meeting."
Presentations and topics for discussion will include:
Ed Boyling of Thomson Reuters will present their Lynx Insight system which blends human and machine insights for news creation. Tao Chen of 500px / Visual China Group, Lead of IPTC's AI Expert Group will present on 500px's work on AI stock photos. Claudia Quinonez of Bloomberg will give a presentation on "Deep Data-driven Stories"
Presentations and discussion on metadata entities with Fredrik Lundberg of iMatrics and Joacim Ståhl from TT
Updates from IPTC Working Group leads on the latest proposed updates to ninjs, NewsML-G2 and Video Metadata Hub, and voting on the proposals by the IPTC Standards Committee
The latest work of the Photo Metadata Working Group, including recent work with Google on surfacing embedded copyright and licensing metadata in Google Image Search results
A presentation from W3C Web Publications working group on the Web Publications standard
Updates on IPTC's recent work on the Google News Initiative project C-POP and on our work on expressing trust and credibility indicators in news content
The meeting will be held on the originally planned days — Monday 11th through to Wednesday 13th May 2020 — but will take place over five hours each day so attendees still have some time to do other work if necessary.
Attendance is free for all IPTC members. Members should sign up at the members-only registration page to be sent an invitation link.
There is still time to join IPTC to attend the meeting. If you are interested in joining IPTC, please see the join IPTC page. 
The IPTC Board was looking forward to having a meeting in Tallinn, Estonia, and hopes that we will be able to have an in-person meeting in Tallinn in coming years.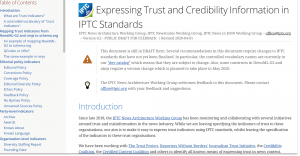 At the IPTC Autumn Meeting in Toronto in 2018, IPTC considered the issues of "trust and credibility" in news media. We looked at the existing initiatives and considered whether IPTC could contribute to the space.
We concluded that some existing efforts were doing great work and that we should not create our own trust and credibility standard. Instead, our resources could best be put towards working with those groups, and aligning IPTC's standards — particularly our main news standards NewsML-G2 and ninjs —  to work well with the outputs of those groups.
Since that time, the IPTC NewsML-G2 Working Group has been collaborating with several initiatives around trust and misinformation in the news industry. We have been working mainly with The Trust Project and the Journalism Trust Initiative from Reporters Without Borders, but have also been in communication with the Credibility Coalition, the Certified Content Coalition and others to identify all known means of expressing trust in news content.
Our aim is to make it easy for users of NewsML-G2 and ninjs to work with these standards to convey the trustworthiness of their content. This should make it easier for news publishers to translate trust information to something that can be read by aggregator platforms and user tools.
In particular, we want to make it as easy as possible for syndicated content to be distributed and published in alignment with trust principles.
A new IPTC Guideline document
To that end, we are publishing a "public draft" of a new IPTC guideline document: Expressing Trust and Credibility Information in IPTC Standards. While not complete, we hope that it helps IPTC members and other users of our standards to understand how they can express trust indicators.
To go along with the draft, we are proposing some changes to existing IPTC standards, including updates to NewsML-G2 and to ninjs, and a new Trust Indicator taxonomy created as part of the IPTC NewsCodes.
New Genres in NewsCodes and changes to NewsML-G2 and ninjs
To accommodate the new work, we will be adding some new entries to the NewsCodes Genre vocabulary. Some genres required for this work such as "Opinion" and "Special Report" were already in the genres vocabulary, but we are proposing to add new genres including "Fact Check" and "Satire", and some genres to handle sponsored content: Advertiser Supplied, Sponsored and Supported.
We will also be making some small changes to the existing ninjs and NewsML-G2 standards to accommodate some new requirements, such as being able to associate a publisher with another organisation, to indicate membership of The Trust Project, Journalism Trust Initiative or a similar group.
From trusted agency to publisher and then to a user
By following the guidelines, a news agency can add their own trust information to the news items that they distribute. A publisher can then take those trust indicators and convert them to the standard schema.org markup used to convey trust indicators in HTML pages (initially created via a collaboration between schema.org and The Trust Project in 2017).
The schema.org markup can then be read by search engines, platforms such as Facebook, and specialised trust tools such as the NewsGuard browser plugin, so that users can see the trust indicators and decide for themselves whether they can trust a piece of news.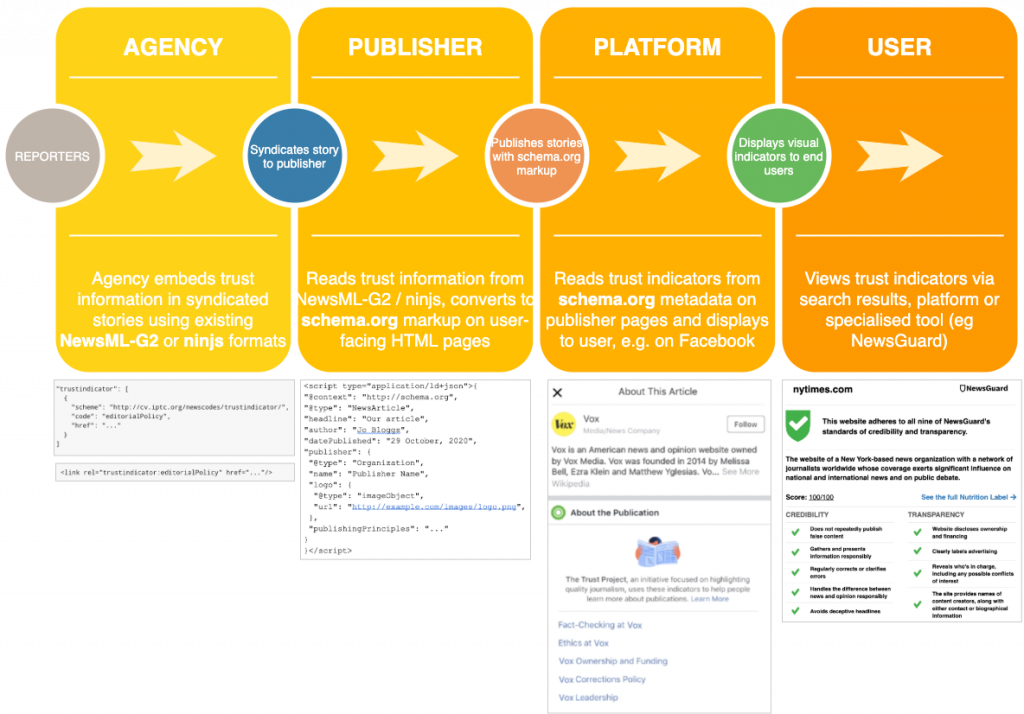 Please give us your feedback
The document will not be final until after those changes have been approved by IPTC members at our next meeting in May.
We have published the draft to ask for feedback from the community about how we could improve our guidance, ask for any trust indicators that we have missed, and to ask for implementation feedback.
Please use the IPTC Contact Us form to send your feedback.
About the Trust Project
The Trust Project is a global network of news organizations working to affirm and amplify journalism's commitment to transparency, accuracy and inclusion. The project created the Trust Indicators, which are a collaborative, journalism-generated standard for news that helps both regular people and the technology companies' machines easily assess the authority and integrity of news. The Trust Indicators are based in robust user-centered design research and respond to public needs and wants.
For more information, visit thetrustproject.org.
The Trust Project is funded by Craig Newmark Philanthropies, Democracy Fund, Facebook, Google and the John S. and James L. Knight Foundation.
About the Journalism Trust Initiative
The Journalism Trust Initiative aims at a healthier information space. It is developing indicators for trustworthiness of journalism and thus, promote and reward compliance with professional norms and ethics. JTI is led by Reporters Without Borders (RSF) in partnership with the European Broadcasting Union (EBU), the Global Editors Network (GEN) and Agence France Presse (AFP).
For more, visit https://jti-rsf.org/en/