Categories
Archives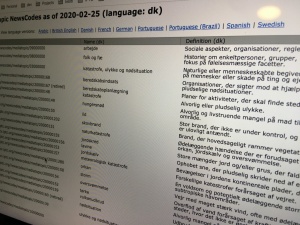 In late February we pushed the latest update to Media Topics, IPTC's main controlled vocabulary for subject classification (also known as a taxonomy).
This release includes a translation of NewsCodes into the Danish language.
On behalf of the NewsCodes Working Group and its chair Jennifer Parruci, we would like to say thanks very much to Mette-Lene Østergaard and Mads Petersen from the Danish news agency Ritzau in Denmark for all their work on making the translation.
It's available from all the usual places:
The IPTC Media Topic NewsCodes vocabulary is now available in 9 languages: Arabic, British English, Danish, French, German, Portuguese, Brazilian Portuguese, Spanish and Swedish.
We are working with partners on several more language translations coming very soon. If you would like to work with us on contributing a new language translation of IPTC Media Topics or any other IPTC standard, please contact us!
We were very much looking forward to our IPTC 2020 Spring Meeting in Tallinn, Estonia, beautiful city on the Baltic Sea and home city of Brendan Quinn, Managing Director of IPTC. But unfortunately, circumstances mean that we can not hold the meeting in person this time.
Instead we are looking forward to hosting IPTC's first ever virtual Spring Meeting!
We will be going ahead with the dates that we had planned: Monday May 11 to Wednesday May 13, but rather than having all-day sessions, we will be having sessions from 13.00 to 18.00 UTC on each day.
This meeting will include:
The usual updates from our working groups including the Photo Metadata Working Group, Video Metadata Working Group, News Architecture Working Group, NewsCodes Working Group, News in JSON Working Group, Sports Content Working Group
Speakers from IPTC Members such as Reuters, New York Times, Bloomberg and TT on related projects in their newsrooms
Invited guest speakers from companies related to our standards and key topics
The special topic focus for this meeting is "robojournalism" and automated media generation
Because we know how attendees love the networking and interaction sides of our face-to-face meetings, we will have several sessions that aim to let attendees discuss issues with each other and encourage participation in side rooms and through other channels such as our Slack community.
All IPTC Members are invited to attend. For this virtual meeting, there is no cost for IPTC members to attend.
IPTC Member Delegates should look out for an email from Brendan Quinn containing the registration link, or see the event page on the IPTC Members-Only Zone for the registration link.