Categories
Archives
We are excited to announce that the result of our latest collaboration with Google has been launched in a beta phase: Licensable Images.
This feature, that Google is exploring with this beta, will enable image owners not only to receive credit for their work but also to find ways to raise people's awareness of licensing requirements for content found via Google Images.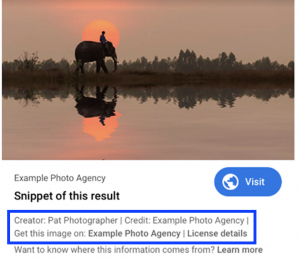 By embedding IPTC Photo Metadata fields into their images (or using schema.org markup), Google will place a badge on licensable images in search results pages.
Under the image preview, Google will show embedded rights metadata (creator, copyright and credit fields). These have been displayed since IPTC's collaboration with Google in 2018, but will now be given more prominence.
Along with the rights metadata, Google will now show links to the image's usage licence and also a link to "Get this image".
See the image for a mockup of how it might look.
By embedding IPTC Photo Metadata into your images, these links will be shown for images on your own website and also when your customers publish images on their sites.
Along with the photo industry organisation CEPIC, IPTC has been working with Google on this project since the IPTC Photo Metadata Conference at CEPIC Congress in June 2019.
The user-facing side of the feature is planned to launch in the next few months. Google has released some developer documentation to encourage image owners to get ready for the launch.
Learn how to make licensable images work for your image collections
For IPTC members, we will be running a webinar today, Thursday 20 February at 15:00 GMT.
The webinar will  explain how the licensable images feature works and what image owners can do to get ready for the launch.
The speakers will be Michael Steidl, Lead of the IPTC Photo Metadata Working Group, and Brendan Quinn, Managing Director of IPTC.
Please check your email for the announcement and information on how to join.
For non-members, we will be publishing a page on this site on Friday 21 February that will explain how to take advantage of the feature.
UPDATE: We have now updated our Quick Guide to IPTC Photo Metadata and Google Images to include information on how to embed rights and licensing metadata in your images.
We're very pleased to see this launch. We look forward to seeing how our members will use this feature to draw more attention to the importance of image rights and licensing.
To support the work of IPTC in this and other areas, please consider joining IPTC.