Categories
Archives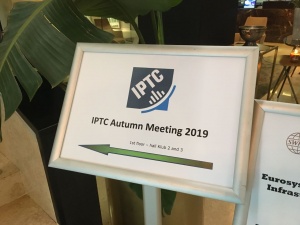 We are now back after a stimulating and entertaining IPTC Autumn Meeting in beautiful Ljubljana, Slovenia last week!
Thanks very much to Aljoša Rehar from IPTC member Slovenska tiskovna agencija (STA) for inviting us and helping out so much with the organisation, along with his colleague Marjana Polajnar and with support from Marko Grobelnik from another IPTC member organisation in Slovenia, the Josef Stefan Institute.
Over three days, we heard presentations from all IPTC Working Groups, the new AI Expert Group and the 2019 IPTC Annual General Meeting. We also heard presentations from invited startups and research projects such as the Content Personalisation Network from Digital Catapult UK and Slovenian projects EventRegistry, NewsMapper, Embeddia, Finspektor and more. Look out for our detailed post about Wednesday afternoon's session for more about our invited speakers.
On Monday, Brendan Quinn, Managing Director of IPTC gave an introduction to the event and all attendees introduced themselves. We had a great turnout with members coming from all over Europe, Asia and both coats of the US. Brendan also gave an update on recent work of the IPTC Board and some decisions that are coming soon.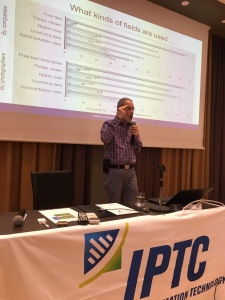 Monday's focus was on both Photo Metadata and JSON standards. We heard from Michael Steidl, Lead of the Photo Metadata Working Group who gave an update on the recent work of the group, including the Photo Metadata Conference 2019 in Paris, recent work with Google, our latest Photo Metadata Survey, and exciting new work on introducing an Image Region capability to the IPTC Photo Metadata Standard, which will let photographers and image creators annotate specific areas of an image with any metadata fields, such as naming each person in an image exactly; identifying products, brands, logos, barcodes or other objects in an image, identifying composite images correctly, and allowing AI annotations to be embedded in the image file rather than distributed in a separate file alongside the image.
Johan Lindgren, who has recently moved from leading the Sports Content Working Group to now leading the News in JSON working group, spoke about the recent work on reviving the group. We are now meeting every two weeks like the other working groups, and plan to make many changes to our main JSON standard ninjs in the coming months. Johan presented an overview of how IPTC members are currently using JSON in their news distribution work, either based on ninjs or using their own formats. Based on change requests received in out GitHub project, the working group identified some "quick wins" that we could easily add to ninjs, and so Johan proposed ninjs 1.2 to the Standards Committee. Johan also showed recent work on a new ninjs User Guide to replace the pages at dev.iptc.org, and on a test suite so we know changes we make to the ninjs schema will be compatible with previous work and not introduce any errors.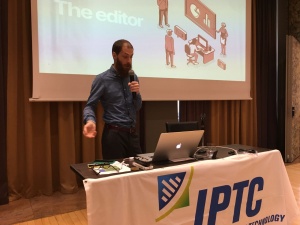 Day 1 ended with a presentation of the Content Personalisation Network project from Luca and Anthony from Digital Catapult in the UK. The work on tailoring content for users based on metadata is very relevant to our members and we hope to be able to work a lot more with the Digital Catapult team in the future.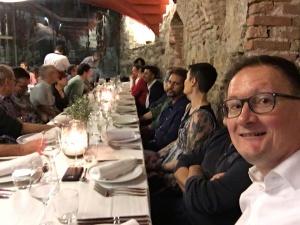 Day 1 ended with a group dinner in a restaurant at Ljubljana Castle, overlooking the beautiful Old Town. After a day sitting inside it was great to have some good exercise walking up the steep hill to get there, and we were rewarded with some great local food.
Stay tuned for more updates from the Ljubljana meeting. If you couldn't make it to Ljubljana, why not attend our next event in Tallinn, Estonia in May 2020?