Categories
Archives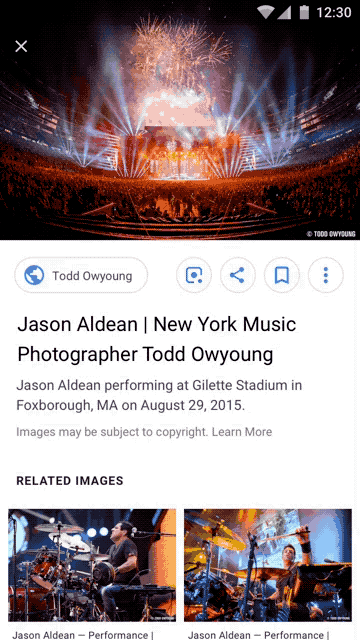 Rights-related photo metadata can now be accessed directly in Google Image Search results, thanks to a joint effort by IPTC, Google and CEPIC, the Council of European Professional Informatics Societies.
Google, the IPTC and CEPIC worked together closely to determine the best way to incorporate metadata in Google search results of images to identify an image's author and rights holder.
When users see an image in a Google search result, they can click the "image credits" link to see the image's creator and credit information, read from IPTC embedded metadata. Over the coming weeks, copyright notice metadata will also be added.
"Embedded IPTC photo metadata has an essential role for photos posted on a website," said Michael Steidl, lead of IPTC's Photo Metadata and Video Metadata Working Groups. "These fields easily show people searching for images who its creator and copyright owner is. We encourage all parties who post images on the web to fill in these IPTC fields."
Photo metadata is vital to guarding images' licensing and copyright information online, and essential for managing digital assets.
The IPTC Photo Metadata Standard is the most widely used specification for describing photos, due to its universal acceptance among news outlets, photographers and photo agencies, libraries, museums and other related organisations. Most major photo software vendors support IPTC's Photo Metadata Standard.
In a recent blog post, Google Image's product manager Ashutosh Agarwal said this change will help promote "a healthy visual content ecosystem."
Brendan Quinn, Managing Director of IPTC, said "we are looking forward to continuing our work with Google on IPTC Photo Metadata and other areas. We have a ton of ideas on how we can work together and are looking forward to using our standards to make the web more searchable and more accountable."
IPTC has prepared a Quick Guide to IPTC Photo Metadata and Google Image Search to help users, developers and site administrators understand what they need to do to ensure that their metadata is shown in Google Image Search results.
For more detailed help with questions and implementation of IPTC's Photo Metadata standard, see our IPTC Metadata User Guide.
Publishers, broadcasters, news and photo agencies and tool vendors are encouraged to join IPTC to work with us and Google on future projects. See the Participate pages for information on joining and working with IPTC.
"For years, the professional photography community has relied on IPTC metadata as the cornerstone of copyright protection," said Andrew Fingerman, CEO of PhotoShelter, a provider of digital asset management tools for photographers and brands. "As assets are change hands, pass through organisations, and are published with greater frequency, IPTC metadata provides the basis for identifying the creator and rights owner. This major step by Google and IPTC will help everyone discover, identify, and trace copyright. We applaud this collaboration!"
For more information, contact us via this web site or email Managing Director Brendan Quinn on mdirector@iptc.org.
For more information:
IPTC Photo Metadata Standard – Guidelines and Support
Join the public IPTC Photo Metadata groups.io Group
Join IPTC: Membership Information
Twitter: @IPTC
LinkedIn: IPTC
Google Blog: Images Rights Metadata In Google Images