Categories
Archives
The IPTC NewsCodes family of controlled vocabularies has a new member: Product Genre.
The Product Genre vocabulary was developed at the request of the broadcast industry. A broad category of terms was needed – one that specifies the kind of content by media product type – in addition to metadata that describes the content. The Product Genre scheme includes terms such as comedy, drama, entertainment, travel and sport.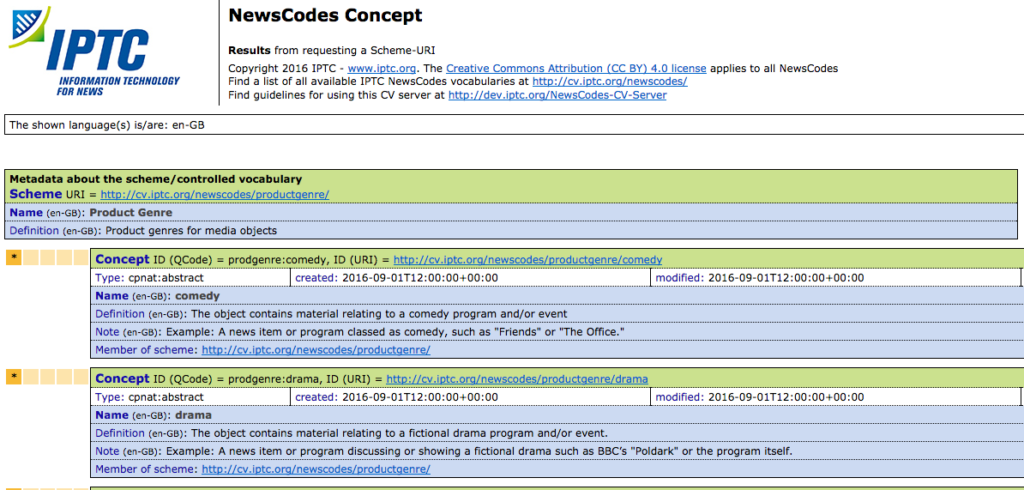 NewsCodes are sets of concepts created and maintained by the IPTC, also known as controlled vocabulary or taxonomy. They are assigned as metadata values to news objects like text, photographs, graphics, audio and video files and streams. This allows for a consistent coding of news metadata across news providers and over the course of time.
The Product Genre vocabulary was an idea initiated by Andy Read, IPTC delegate and BBC's Service Development and Delivery Manager for News, who has worked with IPTC for more than 20 years. This was based on feedback from broadcast members that highlighted the value of the forum engagements in driving the progression of the data set.
"There was a need to extend the breadth of the controlled vocabularies," said Read. "The new Product Genre vocabulary codes describe the type of program itself, and help to broaden the program to a wider audience and general TV/broadcast industry."
NewsCodes vocabularies can be very specific. A broader category like Product Genre allows identification of an entire broadcast program or package – not just smaller segments. For example, a longer 60-minute program overview about Syria's war can be coded according to Product Genre – supplemented by metadata specific to a minute-long clip about a possible chemical attack, in the context of the larger news program.
"The Product Genre needed to be added to help facilitate use of these codes with IPTC's NewsML-G2 standards," said Read.
The new Product Genre vocabulary is also beneficial on the business side, said Jennifer Parrucci, senior taxonomist for the New York Times.
"Advertising is often sold based on the type of program – not necessarily subject tags or more specific terms," Parrucci said. "The Product Genre vocabulary identifies advertising opportunities at a more comprehensive level."
The IPTC NewsCodes Working Group, chaired by Parrucci, collaborated to define the vocabulary terms, based on concrete examples and actual TV programs. For each Concept identifier and name, a definition is listed. The notes section gives an example of what that Concept describes, for clarity and accurate use.

Any NewsCode provided by the IPTC can be used at any stage of a news workflow, without any royalty fee. But if one includes IPTC NewsCodes into an application, the intellectual property and the copyright of the IPTC must be explicitly attributed.
More information:
Product Genre terms and definitions
IPTC NewsCodes and other vocabularies
Tree diagrams: IPTC NewsCodes and groups.
Questions? Contact us.
Twitter: @IPTC
LinkedIn: IPTC
As the Chairman of the International Press Communications Council (IPTC), I believe there are hundreds of reasons to attend
IPTC's Autumn 2016 Meeting,
24 – 26 October in Berlin, but let's focus on just five for now. Our meetings are attended by professionals from the news industry, including media companies, image companies, libraries, digital asset management firms, and more.
Photo Metadata
is IPTC's most widely adopted
standard
, and in Berlin we will be introducing recommendations for video, which we hope will one day be as fundamental.
1.) Experience Video Day!
Be there LIVE for the launch of IPTC's
Video Metadata Hub Recommendation
. Speakers from video makers
, publishers and standards organisations
will talk about how video workflows can be improved using the Video Recommendation. They will discuss
how storing and exchanging metadata in a standard and consistent way can be done while supporting different technical video file formats.
2.) Meet like-minded professionals from all over the globe.
Grow your network – internationally. The IPTC is the global standards body of the news media and provides the technical foundation for the news ecosytem. Our consortium of news agencies and system vendors develop and publish technical specifications to promote the easy, accurate and inexpensive sharing of news and information. Learn from the experience of
the leading professionals who constitute the IPTC
– who are often facing the same challenges you are.
3.) Consider becoming an IPTC member: Influence and contribute to updates to standards.
IPTC membership
is an opportunity to be a part of a prestigious and prominent organization. It makes a statement about your business – that it is one of the news industry leaders and is committed to the effective exchange of information. IPTC allows members to request research and development in areas of specific interest to their business activities.
Participation in working groups
means the ability to request changes or make contributions to the development of standards.
There is often no need to re-invent the wheel. Several system vendors attend our meetings and demonstrate IPTC-supported publishing tools, as well as case studies of implementation at media organizations, libraries, and other industries. Companies find that attending these presentations helps clarify what type of program may best fit their organization's needs.
5.) Learn more about the EXTRA project.
Funded by a grant from the Google Digital News Initiative, IPTC is building an open-source rules-based classification Engine, dubbed "
EXTRA
." Learn why rules outperform statistical approaches to news classification and how you can participate in this exciting new initiative.

More information: Attend IPTC's Autumn 2016 meeting,
IPTC.org
.
Questions? Feel free to
contact me
or IPTC Managing Director
Michael Steidl
.
Twitter:
@IPTC